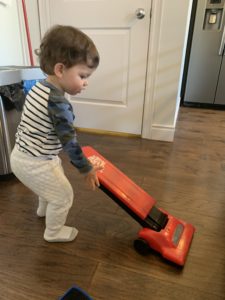 Heavy work provides calming and organizing sensory input for homebound kids that may or may not be bouncing off the walls with physical distancing and quarantine practices in place right now. At its core, heavy work is any activity that provides input to the muscles and joints, also known as proprioception, typically through resistance activities – push, pull, and carry.
Below are some activities and ideas to get your kids moving and regulated!
These ideas are great to incorporate throughout the day as the regulating effects last up to 2 hours. See Grandview's Making a Routine blog post for ideas on how add these activities within a routine.
Outdoor heavy work ideas (while practicing physical distancing):
Pulling a wagon on a walk with a younger sibling inside.
Carry a backpack with some weight inside (e.g., book, food, water). Ensure the backpack is not too heavy (5% body weight is recommended).
Washing windows – your child can draw and practice printing/drawing pictures and shapes then wash if off.
Playing/digging in the sand box in the backyard.
They are never too young to start with Chores! Chores! Chores!
Vacuuming – if your child can tolerate the noise!
Help with yard work and/or gardening. There are lots of leaves outside to be raked!
Carry small baskets of laundry.
Sweeping or mopping floors.
For older kids, bringing the garbage and recycling to the curb. Make sure they wash their hands after!
Family Fun time with Heavy Work!
Get creative with obstacles courses!
Be a spy and use streamers or string as lasers. Try not to get zapped!
Use common household items: jumping off couches onto pillows, climb over/under chairs, walk along a taped line, climb stairs 2 by 2, wheelbarrow walking.
Build forts that can be crawled through using pillows and blankets.
Tug-of-war using thick blankets, or push-a-war using an exercise ball (try not to get steam rolled!).
Kids yoga (https://www.youtube.com/user/CosmicKidsYoga)
Squish, knead, and play with Play Doh or silly putty.
Animal walks.
See Occupational Therapist Pamela Lam and her dog Boomer demonstrate some animal walks below: