Overview
Along with you, your child and your family, our Autism Services team includes Board Certified Behaviour Analysts (BCBA), Autism Therapy Assistants (ATA) and, when appropriate, Speech-Language Pathologists and Occupational Therapists. All of our programs are based on the principals of Applied Behaviour Analysis (ABA), an evidence-based treatment, and are tailored to meet your child's specific needs and goals.
Some of the key skills we might work on include:
1. Communication
2. Vocational Skills
3. Challenging Behaviour
4. Cognitive Functioning
5. Self-Regulation
6. Play and Leisure
7. Personal Responsibility/Adaptive Behaviours
8. Motor Skills
9. Social Skills
10. School Readiness
---
Foundational Family Services
The Ministry has recently added a new service that provides support and increases parent and caregiver's capacity for families registered for the Ontario Autism Program. This service will provide parent training and help parents/caregivers to build their own skills in helping their child on an ongoing basis. These services will be provided at no charge to OAP families.
We at Grandview, feel that as a parent or caregiver, you are your child's first and most essential teacher; so we have added a series of parent/caregiver workshops on various topics that can be accessed by registering on My Community Hub. These services will continue to transform to meet our family's needs to ensure support as the Ministry's new OAP is created. Stay tuned for new and exciting changes!
To learn how to create a "My Community Hub" account and how to register for an event on "My Community Hub", click here.
For more information on the Ministry's new initiative, please visit OAP – Foundational Family Services
YOU are a part of #TeamGrandview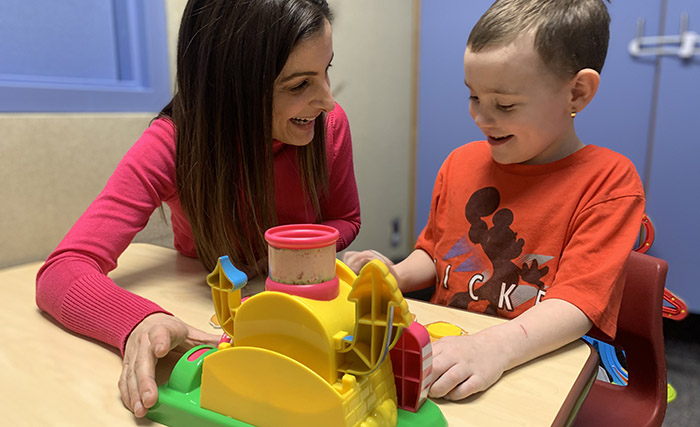 Handouts for OAP Parent Workshops
Eligibility

Everyone registered in the Ontario Autism Program is eligible to receive foundational family services.

For more information on these services, please visit Foundational Family Services. Whether your child or youth is on the waitlist, has received interim one-time funding or a childhood budget, or has an existing Ontario Autism Program behaviour plan, you and your family can access these services and supports.

You can choose to access these services at any point based on your needs, at no cost. There are no limits to the number of times you can register for these services.

Visit My Community Hub MyCommunityHub and type Grandview in the search box, or click on the REGISTER button to view the dates and times. To learn how to create a "My Community Hub" account and how to register for an event on "My Community Hub", click here.
Referral Process – How to Access Grandview Autism Services and Supports

For all general inquiries, information on additional resources, or to speak with a team member about eligibility criteria and initiating a referral, families are able to call or email Service Navigation at Grandview Children's Centre. Our team will be pleased to answer your questions and connect your child with the appropriate services to meet their needs. Service coordination is available for families who require some additional support to determine the programs and services that are the best choice for their family.

Phone: 905-728-1673 x 2533

Toll-free: 1-800-304-6180 x 2533

Alternatively, you may register online here!
About Ontario's Autism Program