OAP – Entry to School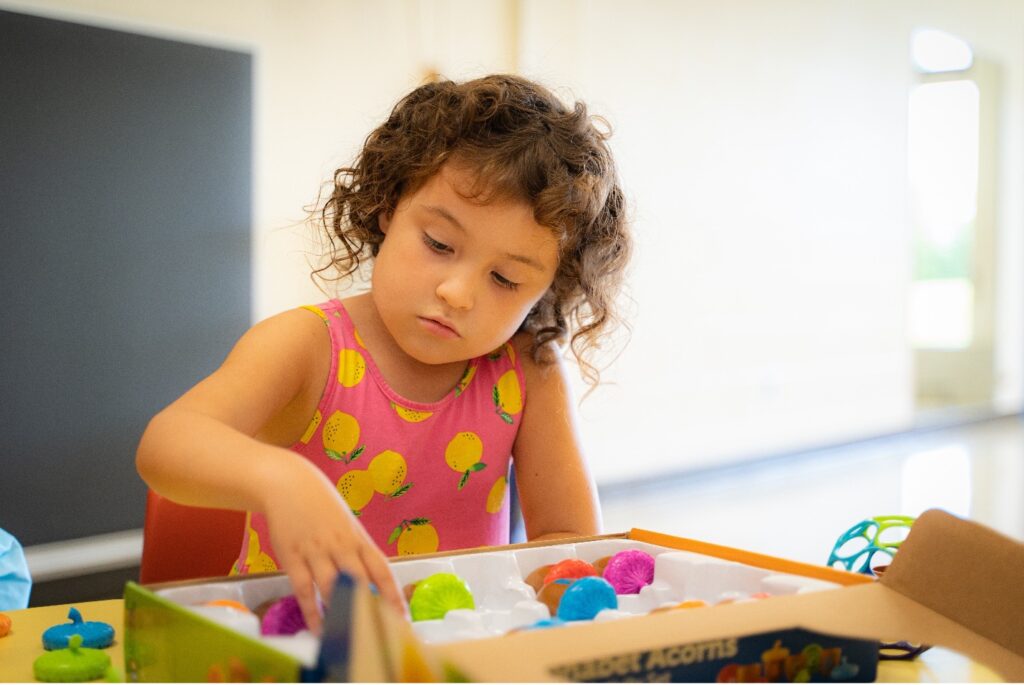 Grandview Kids has partnered with Lake Ridge Community Support Services, Resources for Exceptional Children and Youth – Durham Region, and The Regional Municipality of Durham to offer the Entry to School program as part of the Ontario Autism Program, Early Years Pathway. This partnership is known as the Ontario Autism Program – Durham (OAP-D).
The Entry to School program will help children with Autism Spectrum Disorder prepare for a successful transition to kindergarten or Grade 1.
About the program
The Entry to School program is funded by the Ministry of Children, Community and Social Services at no cost to parents. The program has two components:
Getting ready for school
Starting school
Getting ready for school
Children will attend a group-based, skill-building program for two hours and 45 minutes a day (including transitions in and out of the classroom), up to five days a week for up to six months. All children in the group-based program will have a diagnosis of Autism Spectrum Disorder and be registered in the OAP. The program will be led by a multi-disciplinary team and follow a curriculum focused on six core areas.
The curriculum
Children learn best when they are having fun. The Entry to School curriculum reflects the play and inquiry-based learning approach used by kindergartens in Ontario schools. Through engaging and child-led activities, we will work with your child to support their development in six core areas:
Communication – such as, conversation, expressing wants and needs, understanding words and language, social communication, and non-verbal communication
Play – such as, toy exploration, and engaging in group play/games
Social interaction – such as, understanding of social boundaries, interactions with peers, and learning new behaviours by observing/imitating peers
Functional routines – such as, following classroom routines, and self-help skills such as dressing and toilet training
Behavioural self-management – such as, emotional regulation and being able to wait their turn
Pre-academics, learning and attention – such as, developing new learning skills, working within a group setting, and independent work
The curriculum is offered in English in the Durham Region; though, we will assist families requiring translation and interpreter supports.
The team
The Entry to School program has been designed and will be delivered by a team of experts in the field of early childhood education, paediatric rehabilitation, applied behaviour analysis, and child development. Our consultation team is made up of Behaviour Consultants, Speech-Language Pathologists, Occupational Therapists, and Transition Co-ordinators. The team will work closely with parents and caregivers, the school's early childhood educators and teachers to help support the unique needs of your child.
Starting school
The Entry to School team will provide up to six months of consultative support to your child's teachers and school personnel following their start to school.
Eligibility
To be eligible for this program children must be:
Registered with the Ontario Autism Program.
The recipient of an invitation letter from the Ministry of Children, Community and Social Services.
Between the ages of 3 and 6 years as of December 31 in the year they are starting school.
Starting kindergarten or Grade 1 for the first time.
The Ministry of Children, Community and Social Services is sending invitation letters to eligible families. Grandview Kids will confirm eligibility, including if your child has started school.
Children will not be eligible if they are:
Invitations
Emails and letters are being distributed to families in January and February 2022. Please ensure you add OAP@Ontario.ca to your safe senders list.
Registration
Within four weeks of receiving your letter, you are encouraged to register with Grandview Kids. The first cohort of students will begin in spring 2022.
To register, contact OAPEarlyYearsIntake@grandviewkids.ca.
*Please contact the Grandview Kids Service Navigation Team if your child has enrolled in school but has not attended consistently.
---
Stay updated with all things Grandview Kids!