Overview
Caring for a child with special needs can leave some parents/guardians feeling isolated and alone. The individuals on our Family Engagement team are full of insight and lived experiences and they would love to connect with you. Through the Family Engagement Program, parents have the opportunity to connect with other parents who share similar experiences of parenting a child who has special needs.
The Family Engagement Program supports both the Family Advisory Committee and Youth Advisory Committee.
Family Engagement Offerings

| Offering | Description |
| --- | --- |
| Paperwork Parties (workshops) | In-person help with any of the following applications and processes listed (*) below. |
| Binder Bootcamp (workshop) | In-person help to organize medical information/reports. |
| Online Parent Support (OPS) | Facebook support group for parents/caregivers of a Grandview child. Hosts weekly coffee chats on Thursday nights. Also has a mentorship program |
| Resiliency Group | Facebook support group (runs 1-2x a year for 13 weeks). Focus on building personal resiliency. |
| All About Me publications | Support families to create an all about me document to share with peers, teachers, teams etc. Good for school transition. |
| 1:1 meetings | Provide peer support, share resources, informal mentoring |
| Networking/Events | Opportunities for family networking: Sensory Santa, Accessible Halloween, park play dates, coffee chats, resource fair etc. |
| *Special Services at Home (SSAH) | Respite Funding |
| *Assistance for Children with Severe Disabilities | Provides financial support for low to moderate income families to cover some extra costs of caring for a child with severe disabilities. |
| *Easter Seals Diaper Credit | Children 3-18. Incontinence of supplies such as diapers, pull ups, swimmers, and catheters including straight, Foley, and drainage bags. |
| *Access 2 Card Program | All ages and types of permanent disabilities that require the assistance of a support person. Discount card. |
| *Ontario Autism Program | Support to apply for the OAP. Children under the age of 18, diagnosed with Autism. |
| *Disability Tax Credit | Non-refundable tax credit that helps persons with disabilities. We help complete the first page only, requires a medical professional to complete. |
| *Interim One-Time Funding (OAP) | Support to complete the online application once a family receives their invitation to apply. OAP funding |
| *Childhood Budget Consolodation | Support to complete Childhood Budget paperwork once the funding year is over. OAP Audit |

The Family Engagement Team supports the Family Advisory Committee (FAC) and the  Youth Advisory Committee (YAC).  For information on the FAC or YAC including membership and events, please contact  Andrea Belanger, the Family Engagement Coordinator at 905 728 1673 extension 2281.
Coffee and Creating
Grandview's Family Engagement Team presents… Coffee and Creating with Natasha! At 10AM every other Wednesday, Natasha will go LIVE on the Grandview Kids Facebook page to demonstrate how to create your very own masterpiece. The hope is to give Grandview parents a little break; enjoy a cup of coffee, chat and create some art or just tune in to watch. Art is great therapy for the mind and body!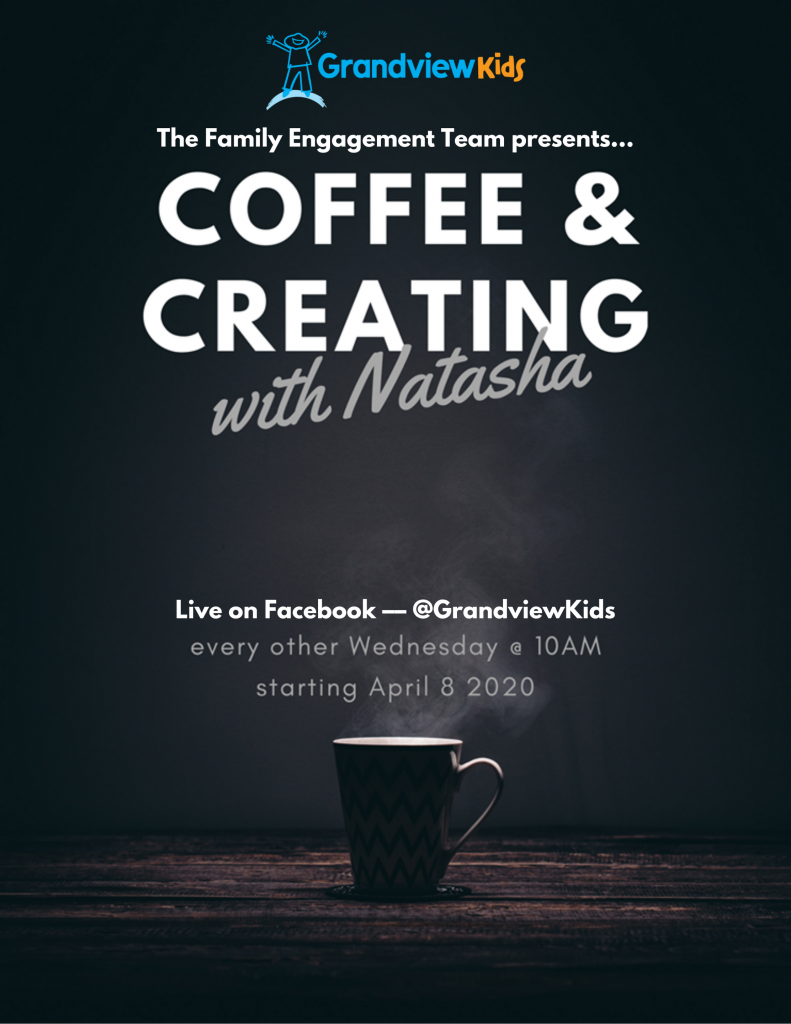 Join our online support group for parents/guardians of Grandview Kids!

If your child is currently receiving services at Grandview Children's Centre, you are eligible to join this closed (non-public), members-only group.

A Facebook account is required.

Go to: facebook.com/groups/Grandview.OPS

Then click on "Join Group" near the top right-hand corner.

Anyone can request to join the group, but only those verified as parents/guardians of Grandview Kids will be approved to join by the Group Administrator.

You can speed up the approval process by sending an email to the Group Administrator (andrea.belanger@grandviewkids.ca) with your child's name and/or client number.
How to Access Grandview Family Engagement Services and Supports