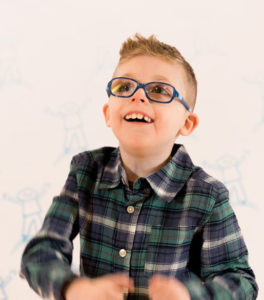 Meet 9-year-old Weston. He is a happy, loving and friendly boy whose smile and contagious laugh can brighten anyone's day. Weston loves playing on his iPad, with his brother Jase, all of his friends and enjoys pretty much any sport offered to him.
By seeing Weston, you'd never know he has had to overcome so many challenges, but he hasn't always had it so easy. Weston was born with Spina Bifida which was diagnosed the day he was born. He was brought directly to Sick Kids where he underwent successful corrective surgery at only 3 days old. Weston has been a client of Grandview Children's Centre since he was an infant and attended Grandview's educational partner, Campbell Children's School (CCS), for both Junior Kindergarten and Senior Kindergarten before heading to mainstream schooling.
"We don't know where Weston would be without the dedication of all the staff at Grandview and CCS, who have worked so hard with him," said his mom, Krystal. "They are truly an amazing group of people whose love and compassion make the days for our children so much fun!"
Weston has delays in his speech and physical movement, as well as with his fine and gross motor skills, but after regular help from Grandview for Speech-Language Therapy, Occupational Therapy, and Physiotherapy- Weston is thriving!
Now in third grade, Weston is seeing much success.
"Weston has always been an amazing reader. He is currently reading at grade level but still has delays in his verbal communication. He has received in-school assistance from a Speech-Language Pathologist and an Occupational Therapist. During recess, he sometimes rides a bike or trike around the school which gives him a dose of Physiotherapy."
Weston has made plenty of new friends since beginning school and has overall been having an excellent learning experience.
"He is not at all shy, but we still feared he may be rejected from his peers because of his differences. His teachers always assure us that is not the case and that his friends tend to offer him help occasionally, explained his mother."
Weston's favourite sport is hockey and he takes any chance he can to play ball hockey with friends at school and his brother at home – if his brother doesn't want to play, he'll set up Buzz Lightyear as goalie and fire off some shots. He has been practicing his ice skating every weekend he can in order to improve his balance and strength.
"It is tough to watch him struggle, his body moves somewhat robotically and he does not have quick reflexes so falls happen often and he gets very frustrated, we just have to keep reminding him to get back up and keep going."
Weston also loves making comic books, which he mimics from his favourite books Captain Underpants and Dogman. When he is finished with his creation, he reads you his story while barely being able to contain his laughter – he thinks he is hilarious.
Every time we have to go to Grandview, Weston lights right up. He absolutely loves Grandview and the amazing staff that know him and chat him up from the moment he walks through the door.
With every new therapist we see, we always learn something different; a new way to help him achieve his goals.
Through Grandview, we learned about the Durham Regional Police Children's Games. Weston participated for the first time this past October. He was able to see so many familiar Grandview faces, staff and old classmates, and had so much fun participating in all of the events that he ended up winning his team's spirit award!
---
Check out more Grandview Kids articles
Stay updated with all things Grandview Kids!