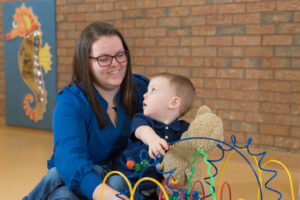 When talking to your kids about COVID-19, it's okay not to know where to start or be worried about saying the wrong thing. It's very possible they may have heard about it at this point, and their amazing imaginations may have started to fill in gaps which might be making the information scarier for them. By opening up the conversation however you can, it will help them better understand what's happening and why. Do your best to describe things in a child friendly and honest way.
Take some time each day to have 1:1 communication with your child. We know that "special time" conversations with your kids are helpful when we: follow their lead, speak at their level face-to-face, use language that is appropriate for their understanding, and provide full attention with our "listening ears" on. Using conversation is an excellent way to be able to connect to our children's thoughts and feelings, as well as to express our own.
You will want to find a setting and time that is optimal for both of you. Remove any distractions (e.g., background noise, television, toys) and set up the environment so that you can both have undivided attention. It may be easier to have a conversation during a walk, bath time, or snack/meal time. If you have more than one child, you might consider having the conversations 1:1 to check in on each child.
Children constantly see and hear new things in their environment. The "adult" conversations we are having and "news" may not be appropriate for young children. Pay attention to what your children are exposed to and how it affects them.
Some things you may want to talk about:
Ask them what they know or have heard about COVID-19, this can help better understand what they know and clarify any incorrect assumptions or conclusions they have made
Be honest about how you are feeling and describe what those feelings mean
Use words they will understand (e.g. "virus" versus "sick").
Use a calm and reassuring voice
Talk about their questions and answer honestly if you don't know the answer, reassuring them that you will let them know when you hear or find the answer
Involve them in any planning (e.g. "Let's think of what we will make for lunch", "What movie should we watch together?"). For younger children, it may be easier to give them a choice of two options than an open-ended question.
Validate their feelings and discuss that it's okay to have fears.
Reassure them of what they can do to take control of themselves and how to reduce the spread of germs
Read the Grandview Kids Social Story about COVID-19 together
You may find your child doesn't want to talk in depth about COVID-19 or after their questions have been answered they say, "okay" and go back to playing. This is a normal response and how children regulate their emotions. What you have done is now created a safe space for them to come back and talk more if they need to.
Further Reading:
Centre for Disease Control Recommendations