Written by Grandview Kids Student Occupational Therapist, Rosetti
---
Is your family looking to purchase an accessible vehicle?
There are a lot of options out there, and deciding on one can be very overwhelming. This post is a great starting point in helping your decision-making process and is written to help you and your family narrow down your options.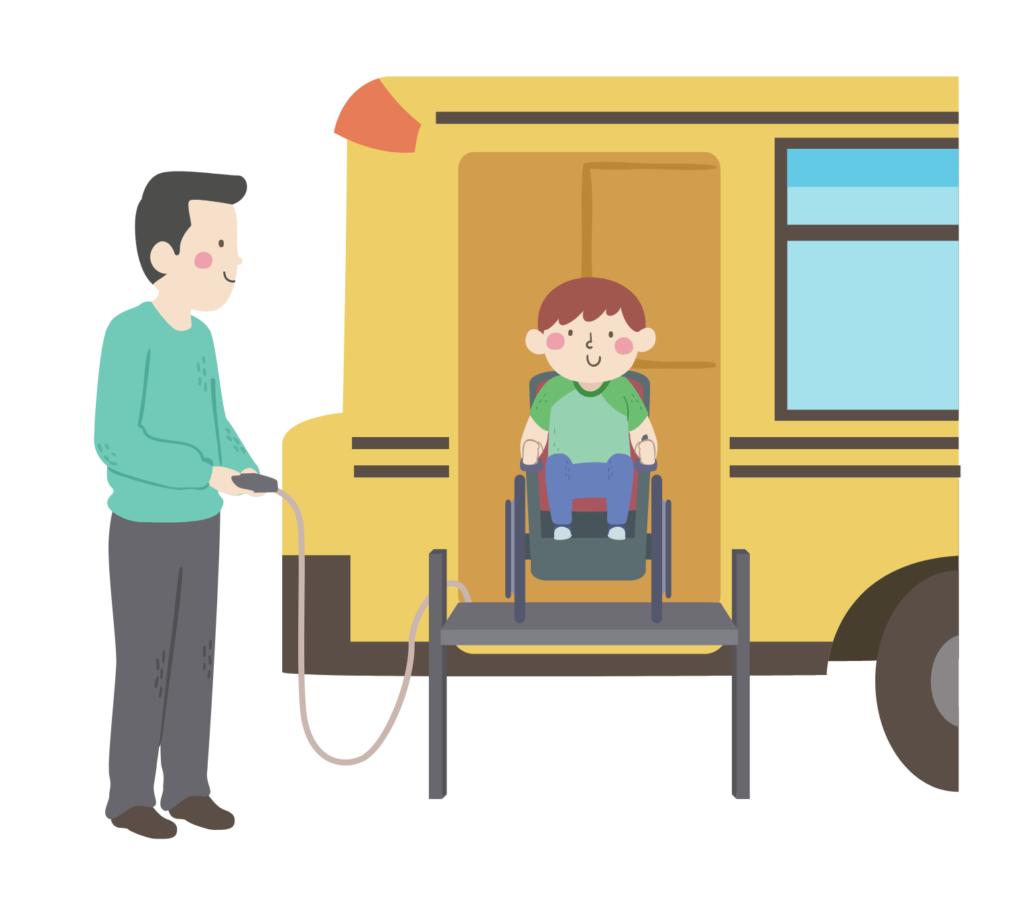 Rear or side entry?
The size of your family may be the deciding factor. Side entry vans can seat 5 passengers and the wheelchair user, whereas a rear entry van can seat 4 passengers and the wheelchair user.
Rear entry vans are easier to access in parking lots, driveways and garages since it does not require any space on the side of the vehicle to enter. Side entry vans are easier to access at curbs and street parking.
When entering a side entry van, the wheelchair requires more maneuvering to turn and face the front of the vehicle. With a rear entry van, the wheelchair requires less maneuvering as the wheelchair user enters straight in and exits straight out of the vehicle.
A side-entry van is closer to the ground, making navigating speed bumps and rough terrain more challenging. In contrast, rear entry vans are higher off the ground and make navigating speed bumps and rough terrain easier.
Rear entry vans do not have trunk space but can accommodate 2 wheelchairs.
Side entry vans have a trunk space and can accommodate a hitch.
Fold-Up vs In-Floor Ramps
Once you have decided between rear and side entry, it is time to consider what type of ramp to install. Rear entry vans can only accommodate a fold-up ramp.
There are manual and power options with both styles of ramps. It should be noted that with the power option, there is a manual override option should there be any technical difficulties or malfunctions.
The fold-up ramp is typically a bi-fold style. It unfolds and is lowered onto the floor. When it needs to be stored, it folds up and blocks the doorway but leaves the window visible. If you choose to access the door, you must unfold the ramp.
In floor ramps do not block the doorway as the ramp is stored within the floor of the vehicle.
Funding
Purchasing a vehicle, whether it be new or used, is a large enough purchase. Van conversions are a large expense, but there are funding options available for many families.
March of Dimes' Home and Vehicle Modification Program offers up to $15,000 for van conversions. This amount cannot be applied to the purchase of the vehicle itself. It is important to note that conversions must be newly installed on a new or up to 3 year old vehicle. A used vehicle must have less than 60,000 km.
Holland Bloorview's Family Support fund offers up to $1,500 for children under the age of 19 and have had a clinical appointment with Holland Bloorview within 2 years of the date on the application.
Easter Seals offers up to $3000 annually. The amount funded varies based on the cost of the item and the availability of Easter Seals funds.
Families can claim the purchase of a modified vehicle on their annual tax return as a medical expense. The provincial limit is $7,456. Similarly, GST/HST that was paid or is owed on the modifications of a converted van can be reimbursed.
Other funding options:
Standard bank loans
Local service clubs, such as Lion's or Rotary
Crowd funding sources, such as GoFundMe
---
Check out more Grandview Kids articles
Stay updated with all things Grandview Kids!