Written by Grandview Kids Family Engagement Team Member, Jacki Nemisz
Sometimes you are going to have to be the one that makes the holiday inclusive.
---
I love Halloween; I love sugar, candy, chocolate. I am that mom that starts thinking about costumes in August. In 2013 when Colton was two years old, we made a decision that was so difficult at the time. After two years of seizures, we decided to start Colton on the Ketogenic Diet, meaning he could never consume artificial sugar, and if he did, the result would be seizures. Doing this meant that holidays, in general, would be tough, Halloween and Easter in particular. In 2013 Colton was still very young, highly medicated and unable to walk, so he didn't notice after trick or treating when I hid his treat bag. I did, though, and so did my 6-year-old. I knew then that next year would have to be different, and it was going to have to be me that would make it different.
Fast forward to Halloween 2014; this was the first year Colton was walking, and I knew this Halloween had to be inclusive to him. I went to the dollar store and picked up pencils, mini cards, toy cars, stickers etc. I went home, and I composed this letter:
Happy Halloween!

Tomorrow our son Colton will be trick or treating dressed as a Paw Patrol. We would appreciate when Colton comes to your house you give him the attached item or toy. He is on a specialized diet to control his seizures and we want him to feel included in Halloween and enjoy trick or treating with his brothers. For those who don't know Colton we will introduce him.

Thank you for making this Halloween special for him.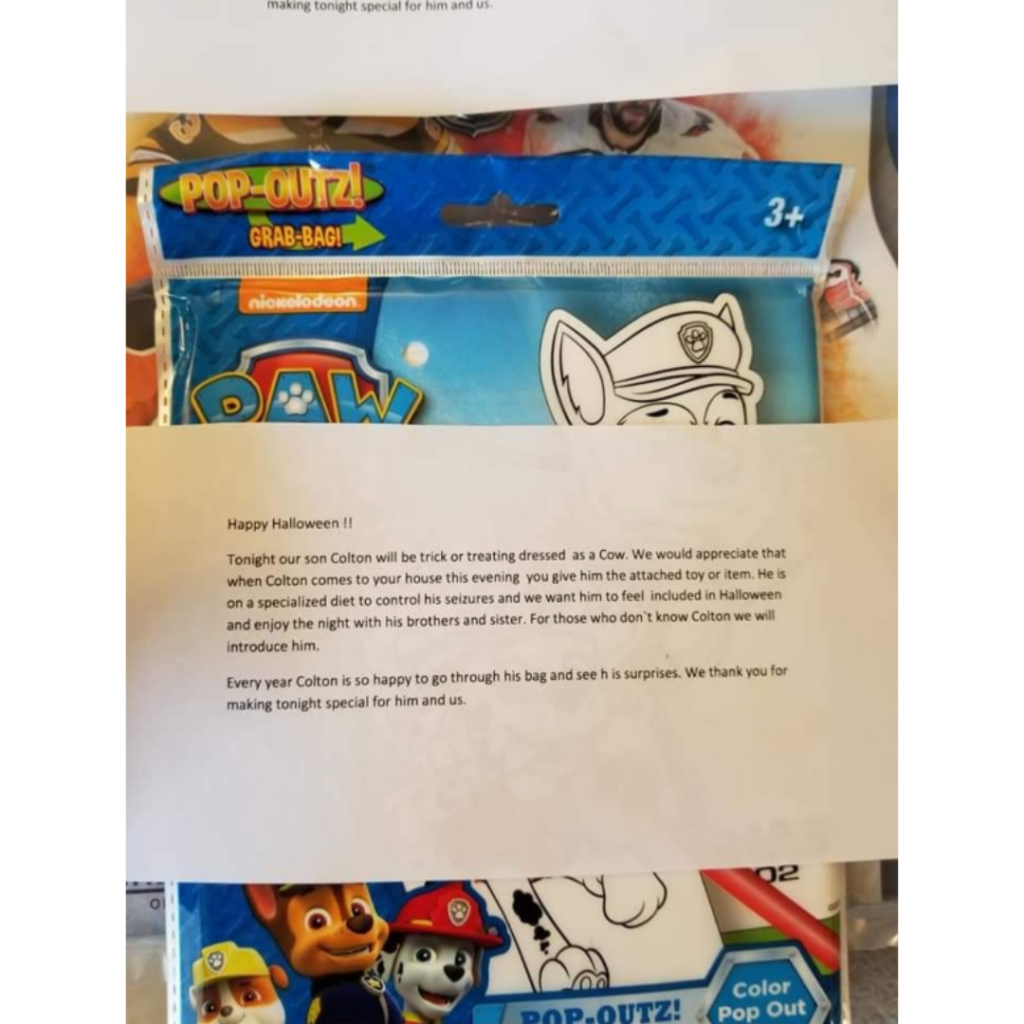 Each year since I have done the same, Colton is older now and sometimes travels to more houses than the items I give out, but that is okay. At the end of the night, when he opens his treat bag, there will be items in there for him. I think it is so important to educate people on how to be more inclusive, but as a special needs mom, I realize that sometimes I will have to do it myself. We make our house accessible and have non-edible treats available, so everyone has a Happy Halloween.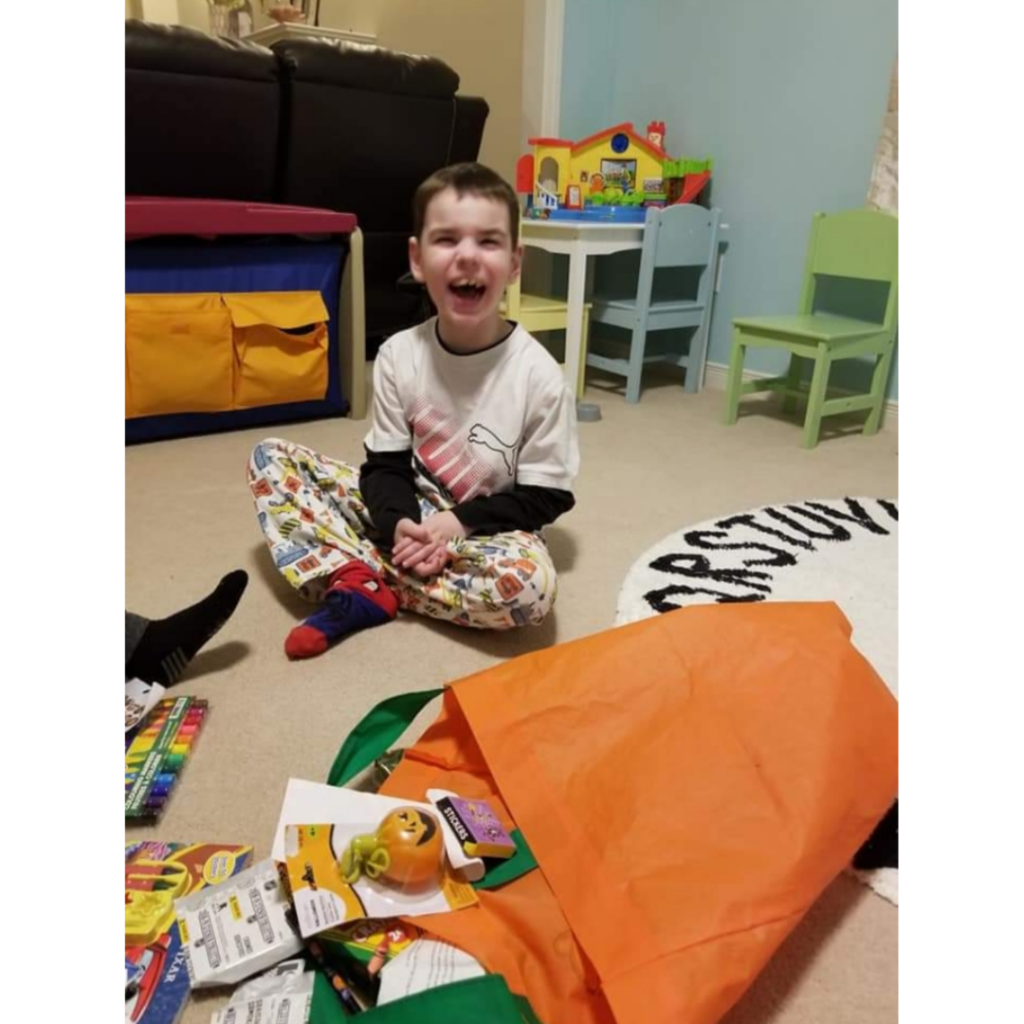 Here's how you can make Halloween fun for all!
Contribution by Family Engagement Team member, Clare Alexander-Arias
---
The Family Engagement Team is helping all Durham Region neighbours consider making Halloween fun, safe and inclusive to children and youth of all abilities.
Here are our top tips:
Some trick-or-treaters might look a little older than you expect. Be kind as they may have a developmental delay.
Some children may be non-verbal. Do not wait for the child to speak before offering a treat.
Some children may not tolerate wearing a costume because of sensory concerns. Be sure to award them a treat just the same as their peers.
If a child seems overwhelmed or anxious, have patience.
Many children have food allergies. Consider offering a non-edible option for these children (i.e., bubbles, pencils, glow sticks, etc.) Display a teal pumpkin to signify that you have allergy friendly options.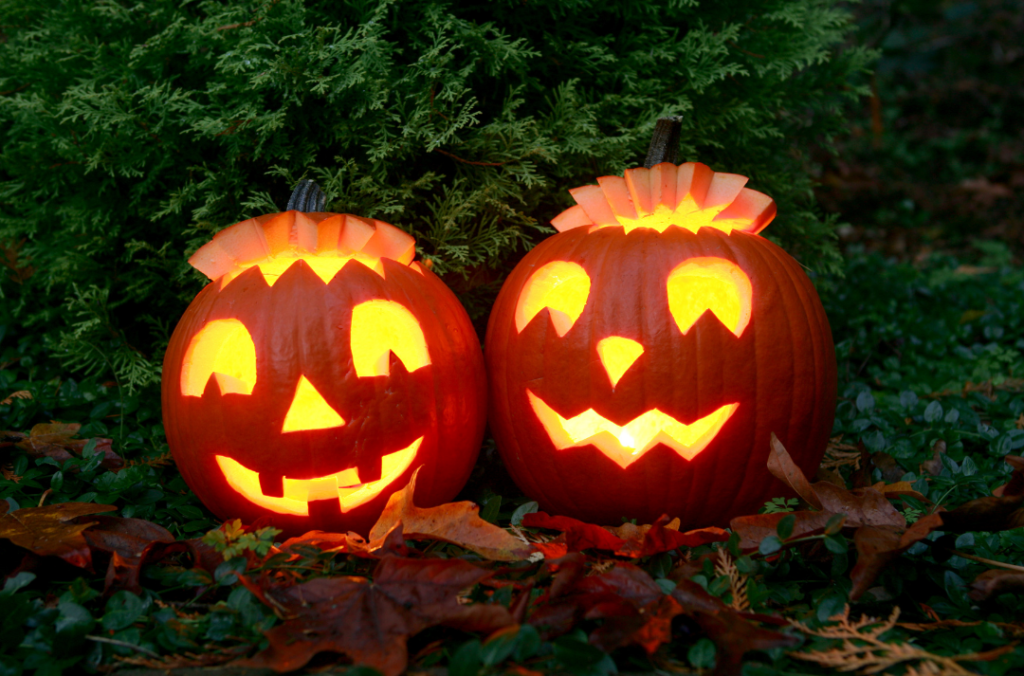 For children who have a hearing impairment, show them the treat before putting it in their bag.
For children who have a visually impairment, tell them what sort of treat you are giving them before putting it in their bag.
Keep all of your walkways and steps clear of obstacles.
Meet trick-or-treaters who use a wheelchair or mobility device at the end of your driveway with candy so they don't have to navigate up to your door.
You can order or print a sign to display on your lawn to show that families in your neighbourhood that if their child has a disability, they are welcome to enjoy Halloween without barriers at your home. Visit this website to order.
Remember to follow all of the COVID-safe rules as instructed by Ontario's Chief Medical Officer of Health and the Durham Region Health Department. Read more on the Government of Ontario website.
---
Check out more Grandview Kids articles
Stay updated with all things Grandview Kids!