Preventing COVID-19 at Grandview Kids
The Durham Region Health Department has deemed Grandview Kids as a high-risk environment, providing services to children and youth with medical complexities. Our team is dedicated to preventing the spread of COVID-19 and we have implemented enhanced infection prevention and control measures. These measures will help reduce the risk of exposure and spread of COVID-19 within our centres and across the community.
If you have concerns regarding any of the following, please contact us. Our kind and friendly Infection Prevention and Control Coordinators are happy to answer your questions and address your concerns.
---
Enhanced infection prevention measures for families
How to prepare for your appointment
Plan to have one parent/caregiver attend your child's appointment
Whenever possible, Grandview Kids requests that only one caregiver accompany their child for their appointment. By having one caregiver present, we reduce the risk of potential COVID-19 exposures. We recognize that this is not always an option, especially for families who require siblings to attend appointments. As such, exemptions are made on a case-by-case basis. In any case, all family members must abide by our screening and masking requirements.
Complete the TrakrSafety Health Screen for you and your child
Within two hours of starting your in-person appointment, Grandview Kids now requires one member of the family to complete the online TrakrSafety Health Screen. One screening is complete per family. You will be asked to show the "passed" screen on your phone when you enter the Grandview Kids site. If you do not have a phone with you, you'll be asked a series of questions by our screener/greeter volunteers or your clinician.
If any member of your family attending the appointment does not pass the screening, you are asked to stay at home, contact your healthcare provider and call Grandview Kids to rebook your appointment.
---
Arriving at Grandview Kids
Ten minutes before your appointment, text the number associated with the site you are visiting
In the text message, provide the following information:
Parent/Caregiver's first name
Child's initials
Time of appointment
Once you submit the information above, please stay in your vehicle until one of our team members calls you to enter the building.
Show your completed screen and Enhanced Vaccine Certificate
Upon entering the site, please show your passed TrakrSafety Health Screen to our screener/greeter volunteer or your clinician, who will also scan your Enhanced Vaccine Certificate.
Put on a new surgical mask
When attending in-person appointments, we ask that clients (older than 2 years) and parents/caregivers wear a surgical mask provided by Grandview Kids.
The screener/greeter volunteers or your clinician will ask that you sanitize your hands, remove the mask you entered with, and put on a new Grandview-issued surgical mask. You are able to continue to wear your own mask if you wish, but you must place the surgical mask on top of the mask you enter with. This extra step helps reduce the potential spread of COVID-19 within our sites. This enhanced measure applies to all clients and caregivers who can tolerate wearing a mask. If you cannot tolerate a mask, please let us know. We'll be happy to provide you with support to ensure a safe and successful appointment.
As the COVID-19 pandemic continues to impact services in our community, please follow @GrandviewKids on Twitter, Instagram and Facebook to stay updated and informed.
---
The current Health Screen at Grandview Kids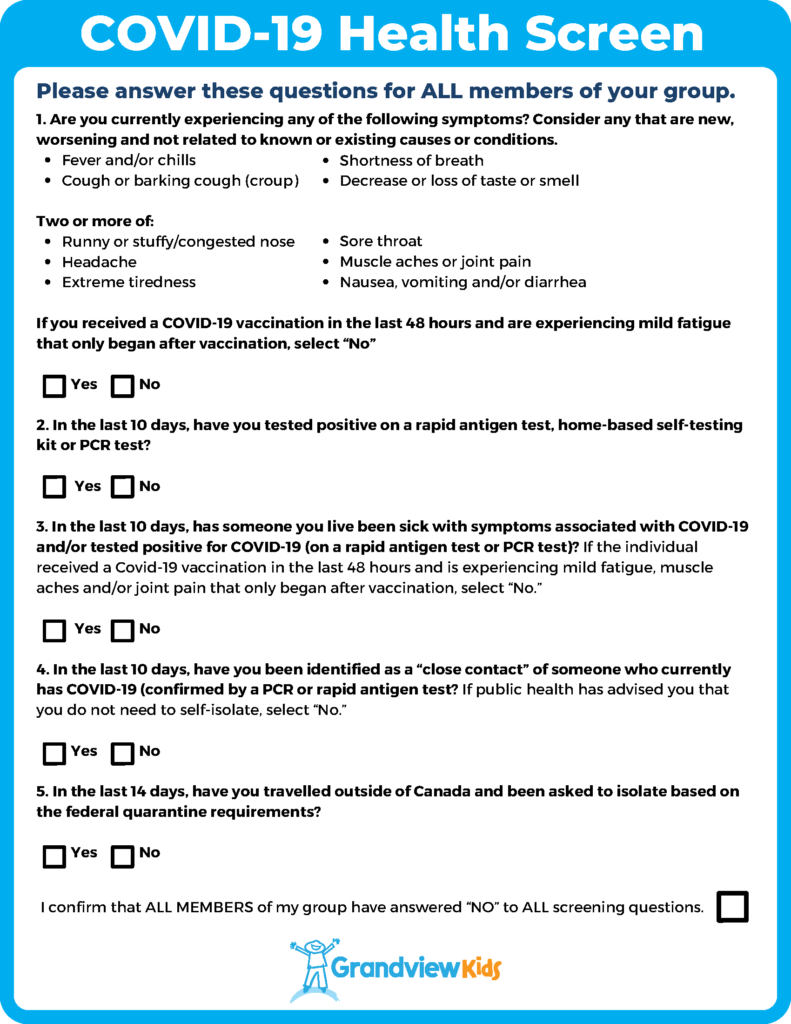 ---
Learn how clinicians use personal protective equipment (PPE) at Grandview Kids and watch as we walk you through an example in-person therapy appointment
Things look different at Grandview Kids, from health screen checkpoints at the entrance to clinicians decked out in Personal Protective Equipment (PPE). We have made several changes to the daily processes and protocols at the Centre to ensure the safety of families, staff and volunteers as in-person therapy appointments resume.
PPE is used to reduce exposure and prevent transmission by droplet or contact with another person. PPE barriers include gloves, gowns, facial protection and eye protection, including safety glasses, goggles or face shields.
Masks are required when entering Grandview Children's Centre. All staff, volunteers, and we ask parents to wear a face mask throughout their time at the Centre. It is not recommended for kids under two years to wear a face mask. Children and youth with breathing difficulties and those unable to take off the face mask on their own are also not recommended to wear face masks. We will provide families with access to face masks upon entering the Centre and do not need to bring their own from home.
Watch below as Grandview Kids Physiotherapist, Corrie, shows you how your child's therapist may look when you meet for an in-person therapy appointment.