Preventing COVID-19 at Grandview Kids
The Durham Region Health Department has deemed Grandview Kids as a high-risk environment, providing services to children and youth with medical complexities. Our team is dedicated to preventing the spread of COVID-19 and we have implemented enhanced infection prevention and control measures. These measures will help reduce the risk of exposure and spread of COVID-19 within our centres and across the community.
If you have concerns regarding any of the following, please contact us. Our kind and friendly Infection Prevention and Control Coordinator is happy to answer your questions and address your concerns.
---
Enhanced infection prevention measures for families
How to prepare for your appointment
Complete the TrakrSafety Health Screen for you and your child
Within two hours of starting your in-person appointment, Grandview Kids requires one member of the family to complete the online TrakrSafety Health Screen. One screening is complete per family. You will be asked to show the "passed" screen on your phone when you enter the Grandview Kids site. If you do not have a phone with you, you'll be asked a series of questions by our screener/greeter volunteers or your clinician.
If any member of your family attending the appointment does not pass the screening, you are asked to stay at home, contact your healthcare provider and call Grandview Kids to rebook your appointment.
Masking
Grandview Kids is pleased to be a mask-friendly environment. Parents, caregivers, children and youth are no longer required to wear a mask during appointments. You are, however, welcome to wear a mask anywhere in our sites. Team Grandview will continue to wear masks and personal protective equipment during appointments and programs.
The state of COVID-19 in our community may change over time. Follow @GrandviewKids on Twitter, Instagram and Facebook to stay up-to-date and informed.
---
The current Health Screen at Grandview Kids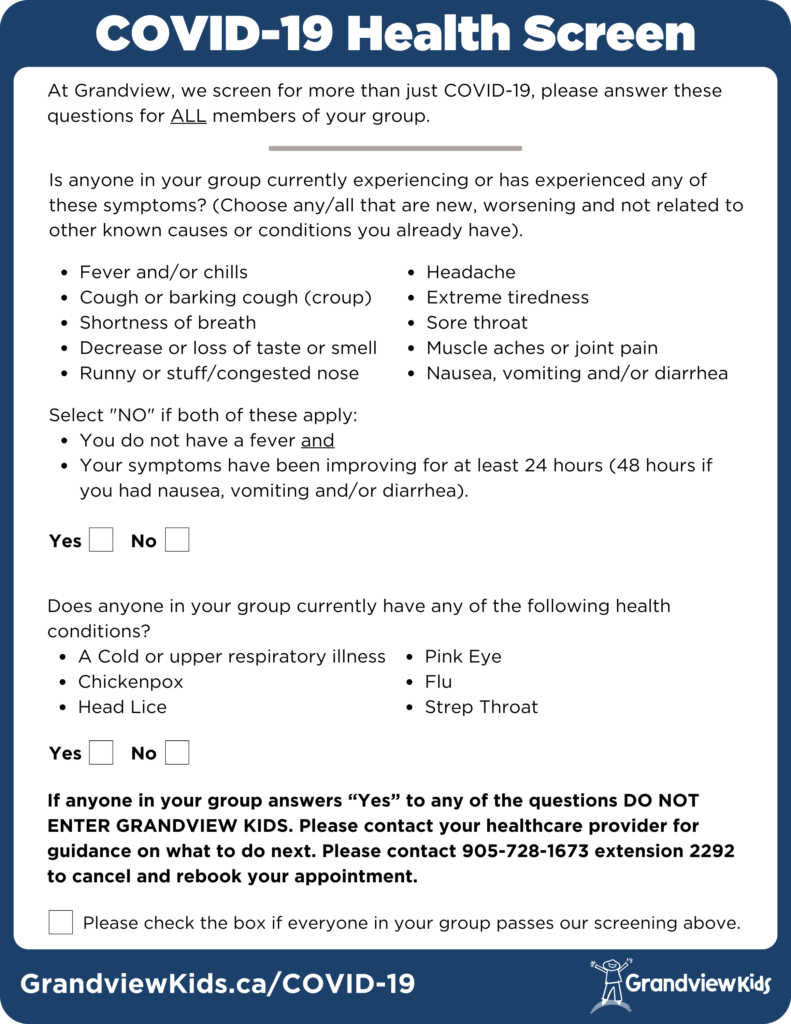 ---
Learn how clinicians use personal protective equipment (PPE) at Grandview Kids and watch as we walk you through an example in-person therapy appointment
Things look different at Grandview Kids, from health screen checkpoints at the entrance to clinicians decked out in Personal Protective Equipment (PPE). We have made several changes to the daily processes and protocols at the Centre to ensure the safety of families, staff and volunteers as in-person therapy appointments resume.
PPE is used to reduce exposure and prevent transmission by droplet or contact with another person. PPE barriers include gloves, gowns, facial protection and eye protection, including goggles or face shields.
Watch below as Grandview Kids Physiotherapist, Corrie, shows you how your child's therapist may look when you meet for an in-person therapy appointment.