Grandview Kids remains open throughout the COVID-19 pandemic. Will you and your child be visiting the Centre for an appointment? Please find all the information relating to COVID-19 processes and protocols regarding your visit to Grandview Kids below.
COVID-19 Information
---
Learn how clinicians use personal protective equipment (PPE) at Grandview Kids and watch as we walk you through an example in-person therapy appointment
Things look different at Grandview Kids, from health screen checkpoints at the entrance to clinicians decked out in Personal Protective Equipment (PPE). We have made several changes to the daily processes and protocols at the Centre to ensure the safety of families, staff and volunteers as in-person therapy appointments resume.
PPE is used to reduce exposure and prevent transmission by droplet or contact with another person. PPE barriers include gloves, gowns, facial protection and eye protection, including safety glasses, goggles or face shields.
Masks are required when entering Grandview Children's Centre. All staff, volunteers, and we ask parents to wear a face mask throughout their time at the Centre. It is not recommended for kids under two years to wear a face mask. Children and youth with breathing difficulties and those unable to take off the face mask on their own are also not recommended to wear face masks. We will provide families with access to face masks upon entering the Centre and do not need to bring their own from home.
Watch below as Grandview Kids Physiotherapist, Corrie, shows you how your child's therapist may look when you meet for an in-person therapy appointment.
---
---
Read and understand Grandview Kids' current Arrival Protocol and Health Screen
As you prepare for your visit, note that only one parent/caregiver can accompany their child for their in-centre appointment.
Steps to follow:
1. Please arrive ten minutes prior to your appointment time to allow for screening.
2. When you arrive at Grandview Kids, please park and text the following information to the Site-Specific phone number:
Parent's First Name
Child's Initials
Time of appointment
3. Phone Numbers:
Please note that you can only reach the phone numbers listed below by text only. If you need to speak with someone directly, please call 905-728-1673 or Toll-Free at 1-800-304-6180.
4. We will call you to complete a Health Screen for yourself and your child. Please stay in your car until we notify you to enter the building.
5. Please remember to sanitize your and your child's hands upon entering the building. Adults must wear face masks for the duration of their visit. We expect children over the age of two to wear a mask, if able.
6. When we call you into the Centre, your therapist will be there to greet you.
---
The current Health Screen at Grandview Kids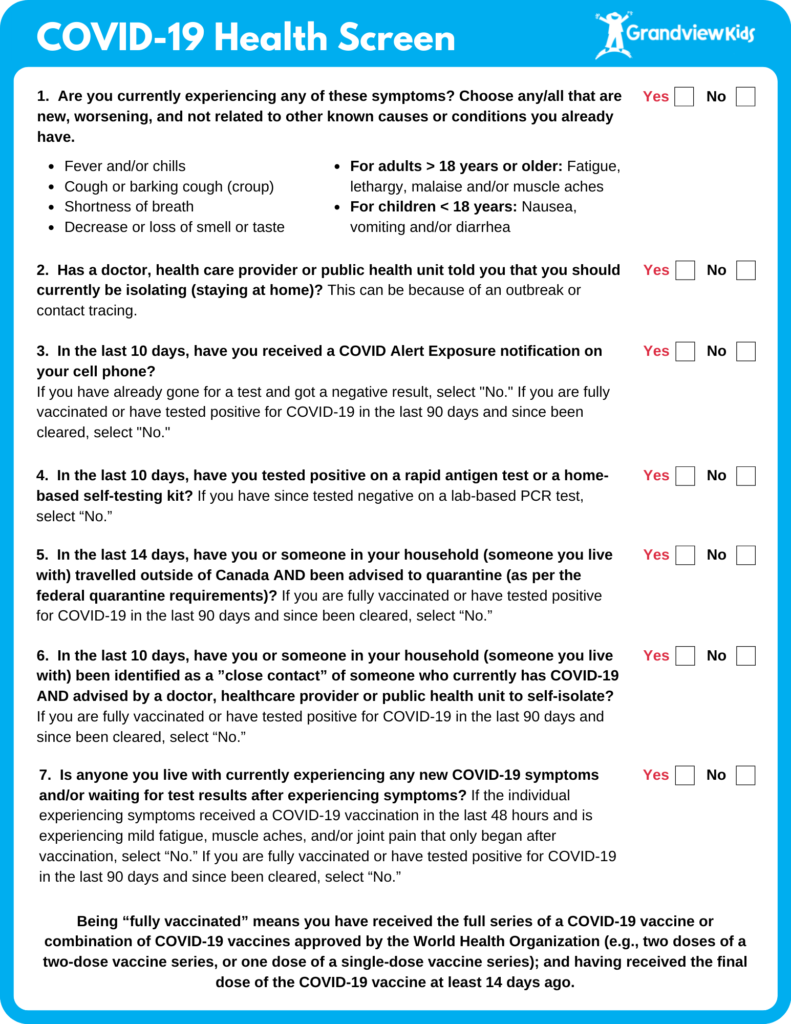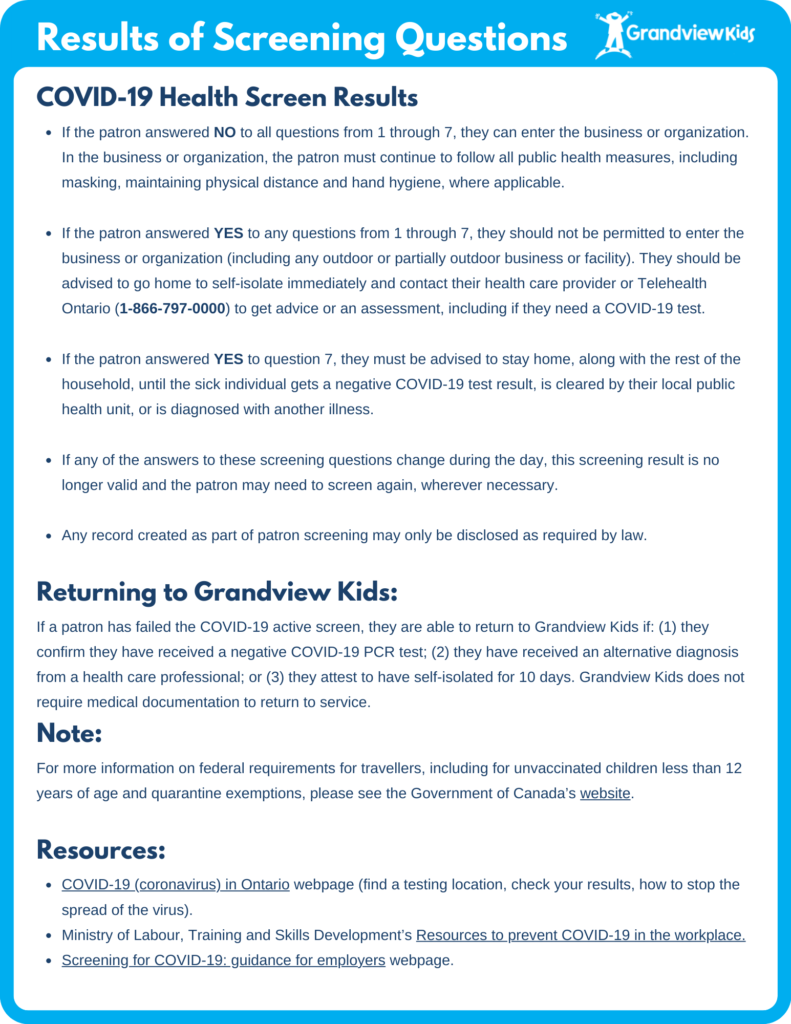 ---
---
Watch how to navigate the new changes at Grandview Kids step-by-step
Watch as Grandview Kid, Faith, and her mom, Amanda, demonstrate how to navigate the changes at Grandview Kids.
Please note: If you are driving your child to their appointment, we ask that you wait in your vehicle until we notify you that your clinician is ready for your appointment. If you arrive by walking or public transit, a screener/greeter will bring you to a private waiting space until your clinician is ready.
---
Stay updated with all things Grandview Kids!