Written by IDEA committee member, Janicka A., and Grandview Kids parent, Abby V.
World Cerebral Palsy Day, which occurs annually on October 6, reminds us that there are over 17 million people impacted by this disorder. Many people wear green to celebrate World Cerebral Palsy (CP) Day.
There are more than 17 million people in the world living with CP and it is one of the most common physical disabilities affecting the most vulnerable among us — children. At Grandview Kids, clinicians in developmental pediatrics, occupational, physio, therapeutic recreation and speech-language therapies support children living with CP and work with their families.
Grandview Kids' parent, Abby V., speaks about his son, Wesley, who has CP:
"Wesley is a thoughtful and engaging social butterfly. He always has a joke or witty phrase on hand and approaches strangers like long-lost friends. He was also born 16 weeks premature and suffered a brain bleed, leading to extensive brain damage shortly after birth. He was diagnosed with both Hydrocephalus and Spastic Diplegia Cerebral Palsy (CP).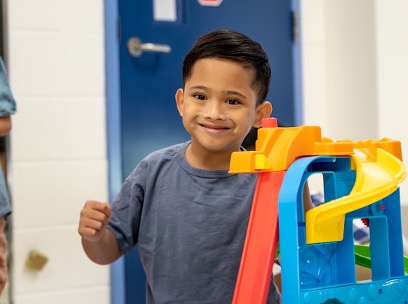 CP is the most common physical disability in children. His form of CP affects both of his lower limbs' tone, movement and coordination. His muscles are stiff, and his reflexes are spastic. He uses equipment, such as ankle-foot orthotics (AFO's), as well as a wheelchair and walker for support and mobility.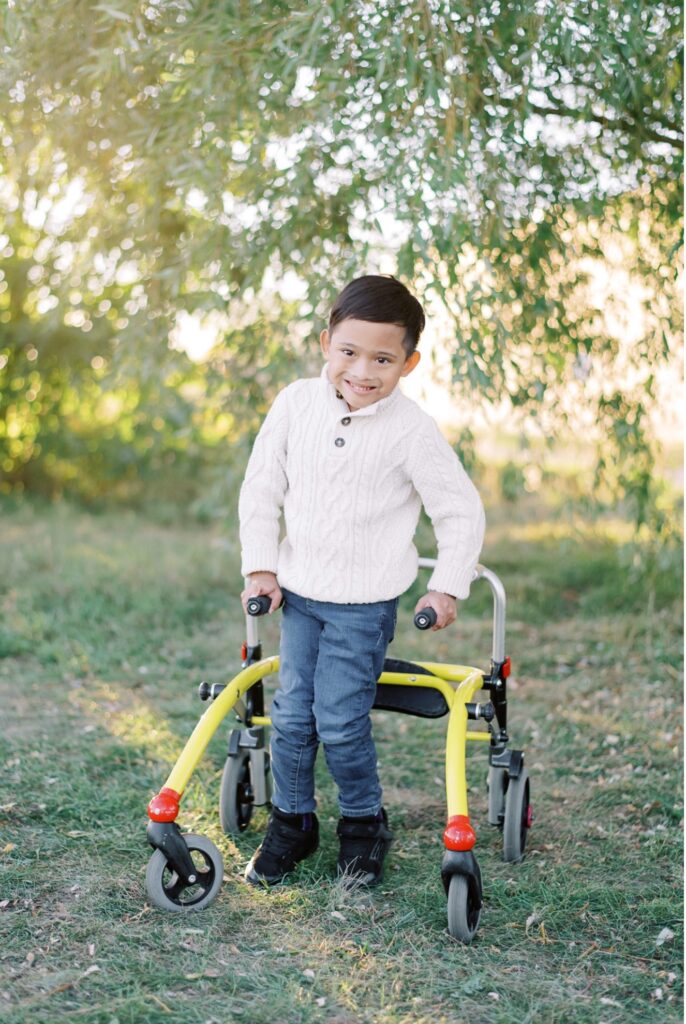 It is a lifelong disorder, and there is no cure, but there are treatments that help to improve function and quality of life. Wesley has accessed services from Grandview Kids, such as Physiotherapy and Occupational Therapy to improve his fine motor and gross motor skills. They work on things like zipping up his coat and writing with a pencil to transfer between equipment and muscle strengthening. He has come a long way from being unable to crawl as a baby to now using his walker while playing in gym class. His therapists continue to support him through their school-based rehab program to ensure he has the right equipment and provide staff training as needed so that his safety needs and personal goals are met, and he can access the curriculum, just like his classmates."
Cerebral Palsy and the Six F-words in Childhood Disability
Function, Family, Fitness, Friends, Fun and Future are the six F-words in Childhood Disability developed by Dr. Rosenbaum and Dr. Gorter. They highlight the intersectionality of how the first five factors affect the future of children with CP and encourage clinicians to focus on these factors throughout treatment.
When Grandview Kids families are participating in the CP-NET study, they are smiling, laughing and passionate when speaking to me about their child's interests and abilities. As the Research Assistant connecting with these families, I've learned so much about CP by listening to their insightful lived experiences. Let's join the world by wearing green on Friday, October 6, 2023, and learning more to celebrate people living with CP!
---
Check out more Grandview Kids articles
Stay updated with all things Grandview Kids!