Cutting with scissors is an important skill to develop as it targets other skills needed to strengthen your child's fine motor skills. Cutting strengthens the intrinsic muscles or small muscles in our hands. It also helps your child to develop eye-hand coordination as your child holds the paper with one hand and cuts with the other hand while tracking the movement of the scissors with their eyes. It also develops bilateral coordination where your child uses both sides of the body – one hand acts as a helper to stabilize the paper while the other hand moves to cut the paper.
Grandview Kids Occupational Therapist, Mary Jane, has these tips and worksheets below for you to help grow your child's scissors skills.
Tips: 3T's (Tuck, Top, Table)
Tuck – Have you child tuck their elbow at their side. If your child has a hard time stabilizing their shoulder, you can use a folder just like the picture below to practice this position.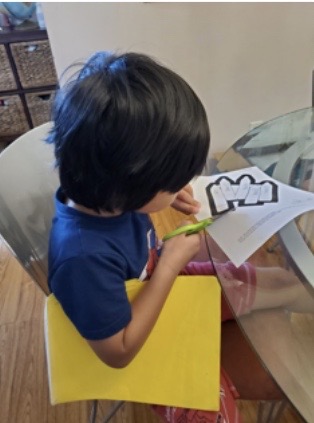 Top – Thumb on top. You can put a sticker on the thumb handle of the scissors to cue your child for proper thumb position.
Table – Tell your child to cut towards the table and away from themselves.
Happy cutting!
---
Check out more Grandview Kids articles
Stay updated with all things Grandview Kids!