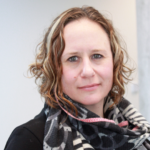 Meghann Lloyd, Ph.D.
Associate Professor, Ontario Tech University
Senior Research Associate, Grandview Children's Centre
---
Dr. Meghann Lloyd earned a Bachelor of Kinesiology (Honours) degree from Acadia University and a Master of Arts degree from McGill University. She completed her Ph.D. at the University of Michigan in the Division of Kinesiology. She joined Ontario Tech University in 2010 and is also a Senior Research Associate at Grandview Children's Centre. Dr. Lloyd's research is focused on the motor development, physical activity, and health of children, youth, and adults with disabilities, including children with Autism Spectrum Disorder, Down syndrome, Developmental Coordination Disorder, Intellectual Disability, and Cerebral Palsy.
Getting to know Dr. Meghann Lloyd
Grandview Kids has welcomed Dr. Meghann Lloyd as a Research Associate. Here are five questions we asked to get to know Dr. Lloyd.
Tell us a bit about yourself.
I have a lot of interests, I love to travel, I love to read, my dog and I go on a lot of hiking adventures. I am a former rugby player, but now I am really enjoying curling.
What type of research do you conduct?
My area of research within the field of Kinesiology is called Adapted Physical Activity. I am very interested in how physical activity and motor development interact in children with disabilities and how we might promote physical activity and motor development to promote health and overall health and wellbeing. I am also interested in play.
What motivates you to conduct this type of research?
Play is a critically important childhood activity for so many reasons, and all children benefit from play. Play in very young children is physical activity, but not everyone has the same access, skill, or motivation to engage in play, and get all the associated rewards. My research looks at the various ways we can encourage and celebrate play, and how engaging in play and physical activity benefits children with disabilities.
How might Grandview Kids families get involved with your work?
Current research that is approved by the Ontario Tech Research Ethics Board and Grandview Kids will be posted on the Grandview research website. Families are also encouraged to email me if they have any questions or would like to get involved. Meghann.lloyd@ontariotechu.ca
Latest research
Podcast: "IDD: Get to know me"

Interview with Dr Lloyd about her research with Special Olympics related to a risk reduction in clinical depression.

Learning to Move and Moving to Learn TedX talk