Grandview Kids names Children First Consortium as the preferred proponent to build a state-of-the-art facility
Tuesday, March 1, 2022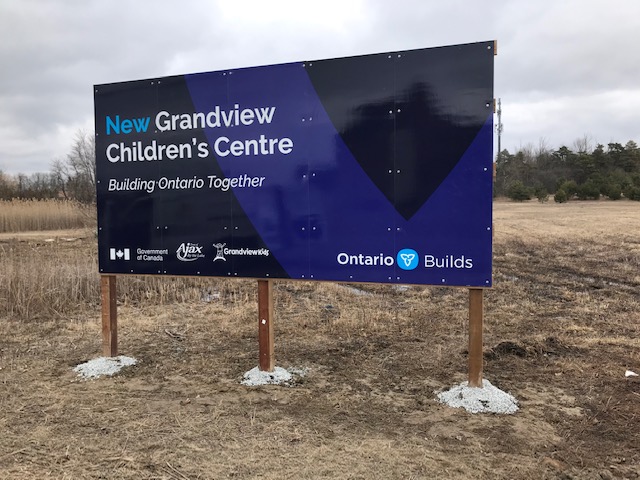 Ajax, ON – After 14 years of advocacy and 17 months of extensive planning and evaluations, Grandview Kids is pleased to announce the Children First Consortium as the preferred proponent to finalize the design, build and finance the "New Grandview Kids."
The Children First Consortium team includes:
Applicant Leads: Amico Design Build Inc., Sacyr Construction S.A
Design Team: Parkin Architects, H.H. Angus and Associates Limited
Construction Team: Amico Design Build Inc., Sacyr Construction S.A
Financial Advisor: Stonebridge Financial Corporation
Infrastructure Ontario and Grandview Kids selected the preferred proponent following an open, fair and competitive request for proposals that began in May 2021. The project is delivered as a Design-Build-Finance contract using a Public-Private Partnerships (P3) model. A P3 model transfers the appropriate risks associated with design, construction and financing to the private sector.
"We have been working toward this moment for many years," shared Lorraine Sunstrum-Mann, Chief Executive Officer of Grandview Kids. "We have imagined a space that offers high-quality, child-centred care in a facility that welcomes all families. We have been guided by the vision of hope, belonging, discovery and celebration for all families. We know the Children First Consortium shares in this vision, and we are one step closer to seeing our dream come to life."
The new Grandview Kids headquarters will be a centre of excellence in paediatric care. The building will include:
Centre-Wide Therapy Services: occupational therapy, physiotherapy, speech-language pathology, therapeutic recreation, audiology, infant hearing, blind low-vision, social work
Ontario Autism Program including Autism Diagnostic Hub, Foundational Family Support Program, Early Years Caregiver-Mediated Program, Entry to School Program and Core Services
Preschool Outreach Program
School-Based Rehabilitation
Developmental Paediatric Medical Services including specialized medical clinics
Family/caregiver resources and support
Campbell Children's School
Once complete, Grandview Kids will consolidate the existing main site in Oshawa and multiple satellite locations into one purpose-built site at 1461 Harwood Avenue North, Ajax. Grandview Kids will maintain three satellite locations to reduce extensive travel times for some clients and their families.
The opening will have a significant impact on local families. Sarah-Lynne Gibbons is the Mom of Zoe. "Little Miss Zoe" as she is best known, is three years old and has a metabolic genetic condition known as SLC35A2-CDG. "To me, the New Grandview Kids means more opportunities for our family to gain knowledge and access more equipment and new devices. These will give Zoe the best chance at living her best life and reaching her highest potential. Grandview has been such a huge foundation to Zoe's success thus far and that has been with such limited resources available. We cannot wait to have the Ajax location up and running."
Progress continues with Infrastructure Ontario and Grandview Kids working to finalize contract details with Children First Consortium. The project is expected to reach a financial close in the coming weeks, with the construction phase aimed to begin in the spring.
The Durham Region community can donate to the New Grandview Kids through the Grandview Kids Foundation. Visit https://www.grandviewkidsfoundation.ca/ to contribute to the Believe Campaign and help build a new facility that hosts unlimited potential for children and youth.
About Grandview Kids
Grandview Kids – founded in 1953 – is an independently operated, not-for-profit Children's Treatment Centre in Durham Region. A Centre of Excellence for paediatric assessment, care and rehabilitation, Grandview Kids provides specialized programs, medical services, and outpatient clinical treatment and support to thousands of children and youth with physical, communication and developmental needs, as well as support for parents and caregivers. Its mission is to help every child and youth live life to their full potential.
For more information about Grandview Kids, visit: http://grandviewkids.ca/.
For updates, follow @GrandviewKids on Facebook, Twitter and Instagram.
Media contacts:
Avori Cheyne
Director, Strategic Communications, Partnership and Engagement
905-728-1673 ext. 2240
Avori.Cheyne@grandviewkids.ca