In March, at the top of 2021, soon-to-be college student Owen DiManno was awarded an Empowered Kids Ontario (EKO) Scholarship, a prestigious award only presented to a select few inspiring individuals. No word is better suited to describe Owen than "resilient," says EKO as they officially announce him as a recipient of their scholarship. It is hard not to agree with this fair assessment as Owen has overcome quite a bit of adversity at a young age and still manages to show up for himself and others in various ways.
To better explain how Owen has ended up as an EKO Scholar, some background information on his journey is necessary.
In April of 2018, Owen was at his first High School Track Meet when he suffered a dissected carotid artery, which caused an ischemic stroke, describes Owen's mother, Rebecca DiManno. After his injury, Owen underwent life-saving surgery at Sick Kids Hospital and spent several months bouncing around hospitals in recovery before arriving at Grandview Kids. Since arriving and spending the past three years at Grandview Kids, Owen has built incredible, lifelong relationships with his therapists and fellow Grandview Kids! His physical therapist, Corrie, nominated him for the scholarship, citing his resilience and positive attitude as a couple of the many reasons he deserves to receive it.
One of the reasons that landed Owen the scholarship was his steadfast commitment to raising awareness for Paediatric Stroke, helping to start a foundation to support this cause called Achieving Beyond Brain Injury. His mother has helped him with the Foundation from the get-go and notes that "from the moment he woke up from the induced coma, he started volunteering for stroke research studies." After interacting with other kids who had suffered a stroke, it only further fuelled his desire to be a loud voice and support system for kids who he saw also suffered a stroke.
In addition to his work with his Foundation, Owen, as the enormous sports fanatic that he is, joined Grandview Kids' sitting volleyball team. In 2019, the team competed in the annual ParaSport games, ultimately finishing fourth in the entire province! Before his stroke, Owen was involved in competitive sports, citing his competitive nature as a driving force in his life to overcome various obstacles, whether they be pushing through his rehab journey or achieving personal goals.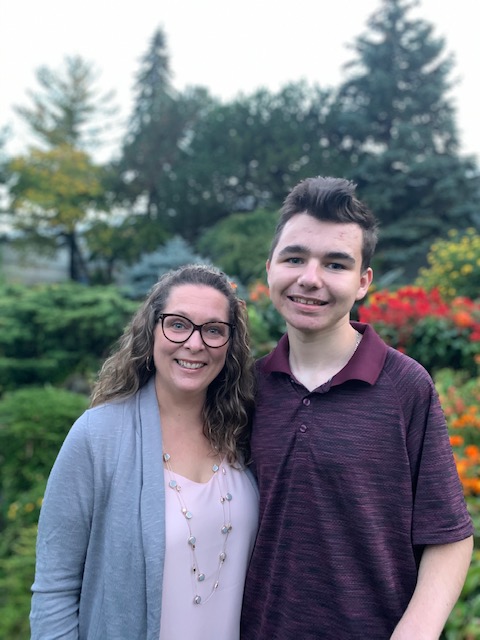 Given his drive, determination, and observable skill, it's no doubt that Owen has become quite the role model for the younger kids at Grandview! When asked how he feels about being a role model for the younger generation at Grandview, he states:
I love being with the younger kids and feel that I'm able to show them that having a disability doesn't slow me down, and I'm able to adapt to different situations, and they can too. Being involved with the Grandview Kids sitting volleyball team was very important to me, and I loved the inclusivity and team building, we ranged in all ages and abilities, but we were one team. Being a role model helps me because I know that my attitude must remain positive, and that rubs off on everyone you meet.
Fast-forward to March of 2021: Owen had officially become an EKO Scholar!
"I felt quite honoured to be awarded such a competitive scholarship," Owen states, further mentioning that "EKO is a wonderful organization that provides kids with disabilities, like me, with opportunities to achieve their dreams and goals."
This past September, Owen started his first year at Durham College, pursuing an Ontario College Diploma as a Developmental Services Worker. He notes that the time he spent living at the rehab hospital significantly impacted his outlook. Owen explains
"[living at the rehab hospital] allowed me to experience a multitude of people with different abilities and the clinicians that worked with all of us. I want to make a difference in someone's life, I want to work with kids with different abilities, and a lived experience is something that can't be taught."
As Owen enters the next chapter of his life, it goes without question that no matter what he aims to accomplish next, his determination will be a driving force in what ultimately allows him to achieve it.
---
Check out more Grandview Kids articles
Stay updated with all things Grandview Kids!