Islamic History Month Canada (IHMC), observed throughout October, is a profound celebration and exploration of the rich heritage of Muslims in Canada. It magnifies their noteworthy contributions to the advancement of humanity across various fields, encompassing scientific breakthroughs, humanities, medicine, astronomy and more. The inception of IHMC in 2007 was an honourable proclamation by the late Mauril Belanger, MP for Ottawa-Vanier. Since then, IHMC has been officially recognized in numerous provinces and municipalities across Canada, embodying a mission to foster understanding and bridge gaps, especially during times when Muslims may face unfair stereotypes. The month serves as a dedicated platform to highlight the invaluable contributions of Muslims to humanity, often overlooked or unknown.
IHMC's theme for 2023: "Celebrating Muslim Women in the Arts & Sciences"
This theme pays homage to the historical impact of Muslim women, acknowledging their profound influence on global and Canadian progress in arts, sciences, and society. By acknowledging and celebrating these remarkable women, we aim to inspire and empower Muslim youth and challenge detrimental stereotypes associated with gendered Islamophobia. Previous IHMC themes have delved into various facets, such as Islamic Art and Architecture, Islamic Banking and Finance, Irrigation and Water Systems, Medicine and Pharmacology, and Islam and the Environment, demonstrating the depth and breadth of Islamic contributions throughout history.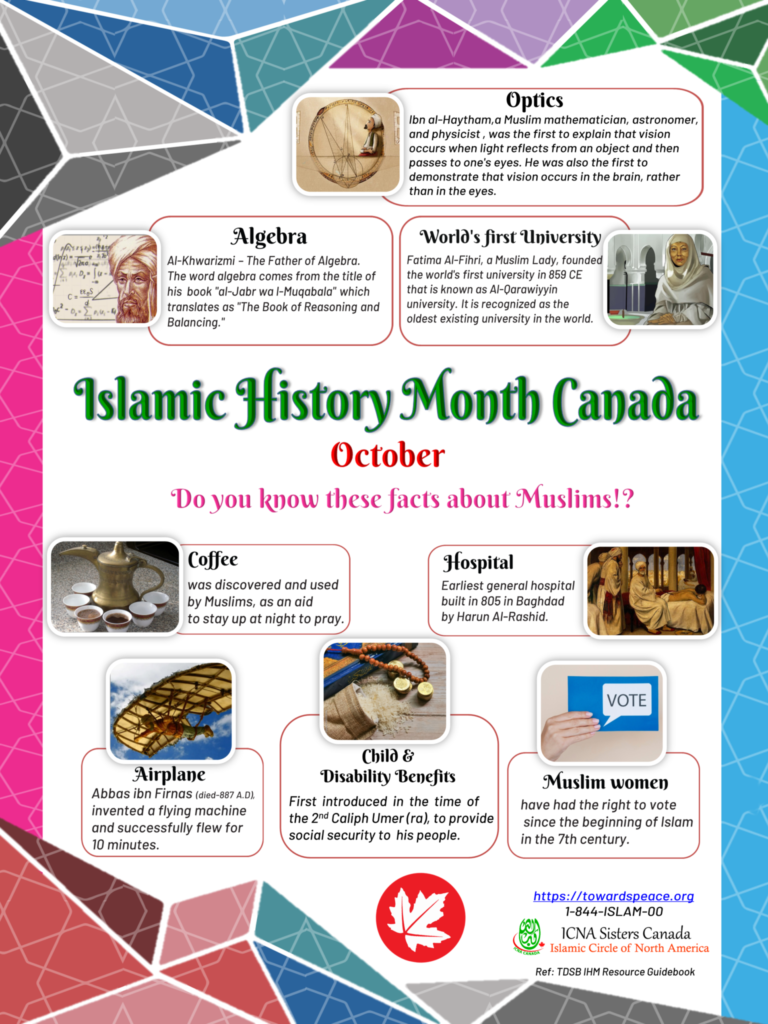 Some Muslim women who have made notable contributions to Canada and Canadian history across various fields:
Dr. Hana Ahmed: A scientist and researcher, Dr. Ahmed is known for her work in biomedical engineering and the development of innovative healthcare technologies. She has made substantial contributions to improving medical devices and technologies for patient care.
Hodan Nalayeh: Hodan was a prominent journalist and media personality known for her work in promoting positive stories about the Somali diaspora and highlighting the achievements of individuals within the community. Tragically, she lost her life in a terrorist attack in Somalia in 2019.
Zarqa Nawaz: Zarqa is a well-known Canadian television producer, writer, and filmmaker. She is the creator of the popular TV show "Little Mosque on the Prairie," which depicted the lives of Muslims living in a small Canadian town and helped raise awareness and understanding of Islam in Canada.
Salma Lakhani: In 2020, Salma Lakhani became the first Muslim Lieutenant Governor in Canadian history, serving as the Lieutenant Governor of Alberta. She is a notable advocate for education and community development.
Monia Mazigh: Monia is a Canadian academic, author, and human rights advocate. She gained prominence through her activism to seek justice for her husband, Maher Arar, who was wrongfully detained and tortured. Her efforts have contributed to improvements in national security and human rights in Canada.
Nour Hadidi: Nour is a Canadian journalist and the first hijab-wearing news anchor to appear on mainstream Canadian television. She has worked for major news outlets and serves as an influential figure, breaking barriers in media representation.
For more information, please visit https://icnasistersca.org/projects/ihm/ or https://www.islamichistorymonth.ca.
---
Check out more Grandview Kids articles
Stay updated with all things Grandview Kids!