The National Volunteer Week theme for 2022, Volunteering is Empathy in Action, affirms the strong connection between volunteerism and empathy. Empathy is a quality that can help people relate to and connect with others. Empathy has the power to build awareness around different experiences. The empathy, compassion and generosity that our volunteers at Grandview Kids possess help to create a stronger and more connected Grandview.  
Throughout this past year, most of the volunteering opportunities have been Screener/Greeter roles, taking place at our Welcome Centres. As we continue to navigate our way through these times, our volunteers strike a balance, ensuring COVID protocols are adhered to, while providing a warm welcome into our Centres for our clients, families, and visitors.
Our talented, caring and experienced volunteer team of more than 150 volunteers (and growing) is comprised of students, retirees and working professionals. We will continue to build the volunteer program at Grandview, and look forward to creating more opportunities in the future.
The entire Team Grandview is thankful for your support, and we celebrate your contributions which have such a positive impact on our successes every day. You truly add a special "sparkle" to #TeamGrandview.
A sincere thank you, volunteers.
Lorraine Sunstrum-Mann
CEO, Grandview Kids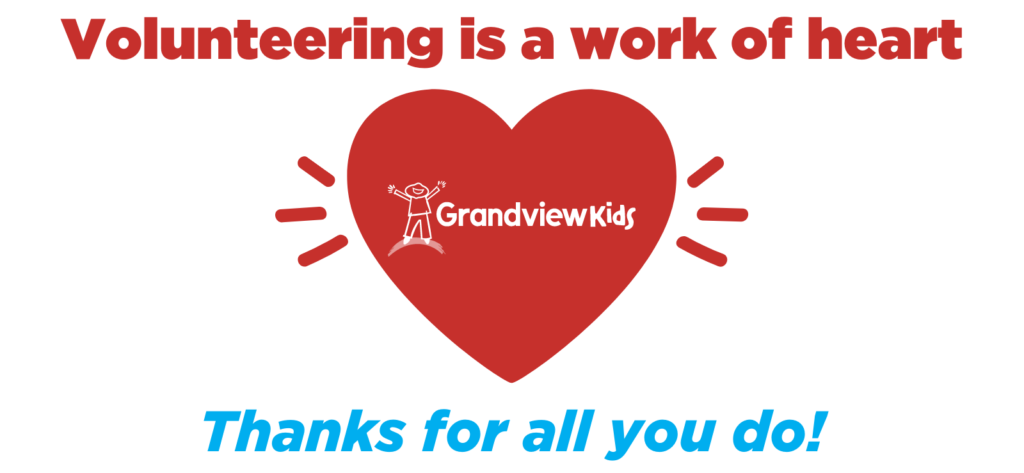 ---
Check out more Grandview Kids articles
Stay updated with all things Grandview Kids!