The Grandview Kids Vaccine Clinic supports National Vaccine and Kids Day
On Thursday, January 27, Grandview Kids is joining organizations across the country in a National Kids and Vaccines Day. This day is led by Children's Healthcare Canada, ScienceUpFirst and the Sandbox Project to promote vaccine confidence to the largest unvaccinated cohort of Canadians.
In the Durham Region, only about half of eligible children between the ages of 5 and 11 years have received their first dose of the COVID-19 vaccine. Grandview Kids is playing an active role in empowering families to make an informed choice and supporting children through the vaccine process.
In December 2021, Grandview Kids opened a Paediatric Vaccine Clinic focused on providing a sensory-safe environment for children and youth who require a little bit more time and support.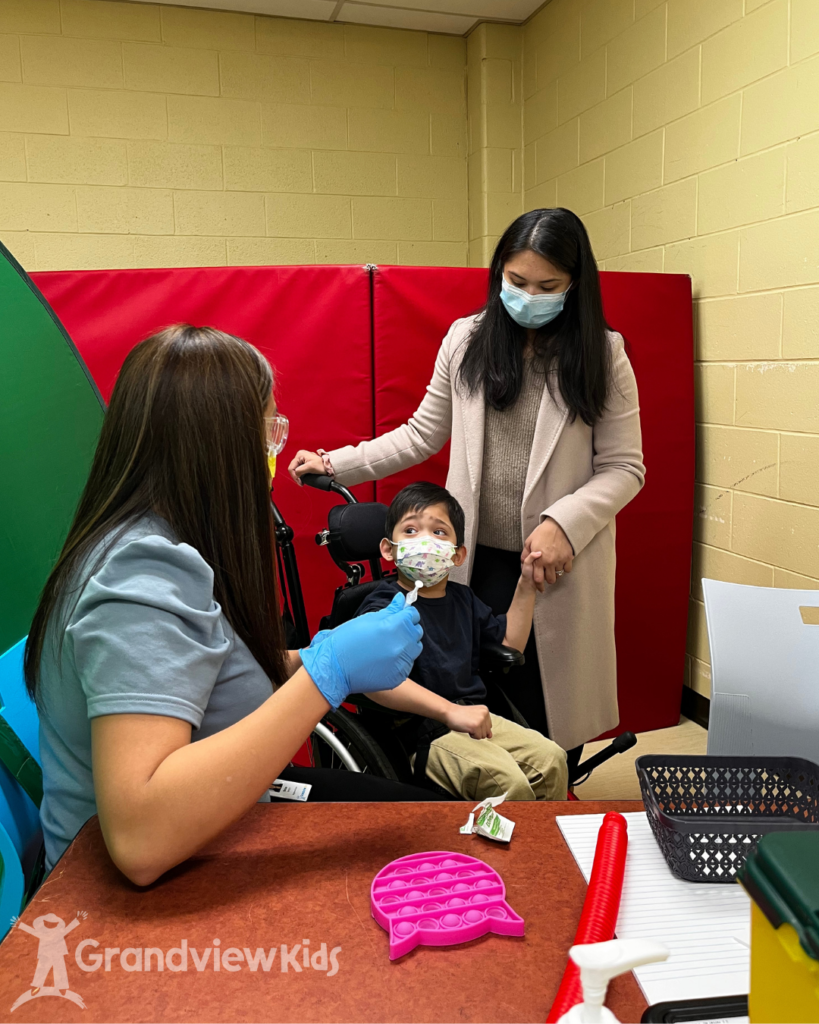 The Martin family share more about their experience:
Our girls, Teagan (age 11) and Logan (age 7), both live with autism and were vaccinated with their first dose in December and second dose is in February through Grandview Kids. After having to deal with the anxiety and fear issues that came with having to have COVID swab tests done at local centres we were hoping that we would be able to find a place that was quiet inviting and understanding of how to work with special needs children to receive their vaccines and Grandview went above and beyond in assisting in that. The kids were very excited at the sensory elements provided to help ease their anxiety and the gift table afterwards was a big hit with them as they were very much looking forward to what the table offered and they got to pick out something.

Kara, Greg, Teagan and Logan Martin
Thus far, the clinic has administered more than 1,500 children, youth, members of the Grandview Kids staff and their families. Each child and youth is met by a friendly Peer Navigator, who will provide words of encouragement, fidget toys, movies, colouring sheets, prizes and a safe, quiet space to receive the vaccine. No one is rushed and everyone is welcome.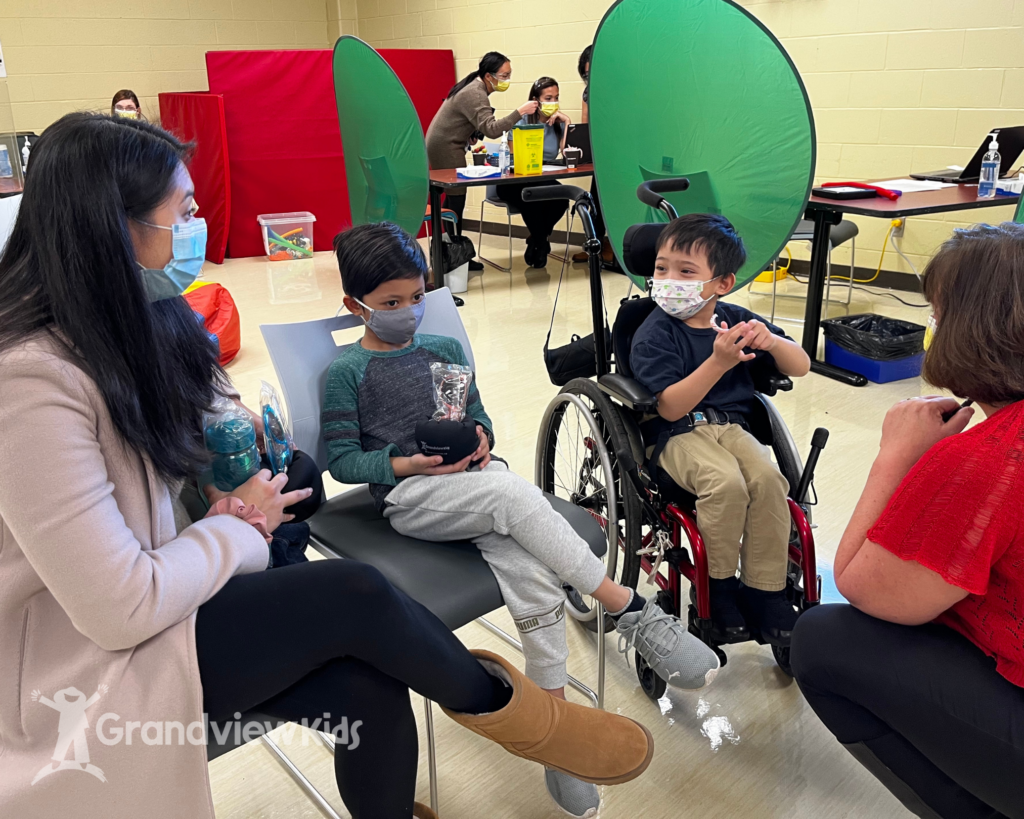 "It has been a wonderful experience knowing we are actively contributing to the fight again COVID-19 in our community," shares Grandview Kids Chief Executive Officer, Lorraine Sunstrum-Mann. "We are proud to provide a sprinkle of joy to an experience that can be distressing to children and their families."
Appointments for upcoming clinics for children (5 to 12 years) and youth (13 to 17 years) are available on the Grandview Kids Eventbrite webpage. Each clinic is run by volunteers, with additional support provided by Grandview Kids Peer Navigators, and vaccines delivered by Grandview Kids regulated healthcare professionals. "As I reflect on the services provided by the Grandview Kids Vaccine Clinic, we must send a shout-out to all the kids we have met. We have been moved to tears at their bravery and belly laughed at the antics and incredible negotiating skills of the kids getting their shot. What we know for sure is that kids can do really hard things. Kids are curious, and kids want to do their part to help move forward beyond COVID" (Lorraine Sunstrum-Mann, Grandview Kids CEO).
---
Check out more Grandview Kids articles
Stay updated with all things Grandview Kids!