Passing the "Grandview Kids sparkle"
In a recent ceremony broadcast to #TeamGrandview, outgoing Grandview Kids CEO Lorraine Sunstrum-Mann "passed the Grandview Kids sparkle" to new CEO Tom McHugh. Here's what they said to one another:
Lorraine: "Tom, it's my absolute honour to pass you the Grandview Kids sparkle… This sparkle represents the magic at Grandview Kids. It's that warm feeling you get when you walk through the doors. It's the way we work together to support clients and caregivers. It's the passion that unites our talented and dedicated team. It's ingrained into our culture as something we celebrate, cherish and work hard to create. Tom, I now pass the sparkle to you with great pride. Preserve it, amplify it because the future is so bright."
Tom: "Thank you, Lorraine. I feel privileged to take on the enormous but exciting responsibility of maintaining the Grandview Kids' sparkle–something I noticed as soon as I arrived. With great care and intention, I am committed to building on the momentum of Grandview's legacy. Harnessing the undeniable skillset of #TeamGrandview, and grounding ourselves in our shared purpose of supporting children, youth and families in the Durham Region, I am confident that our sparkle will grow brighter and brighter."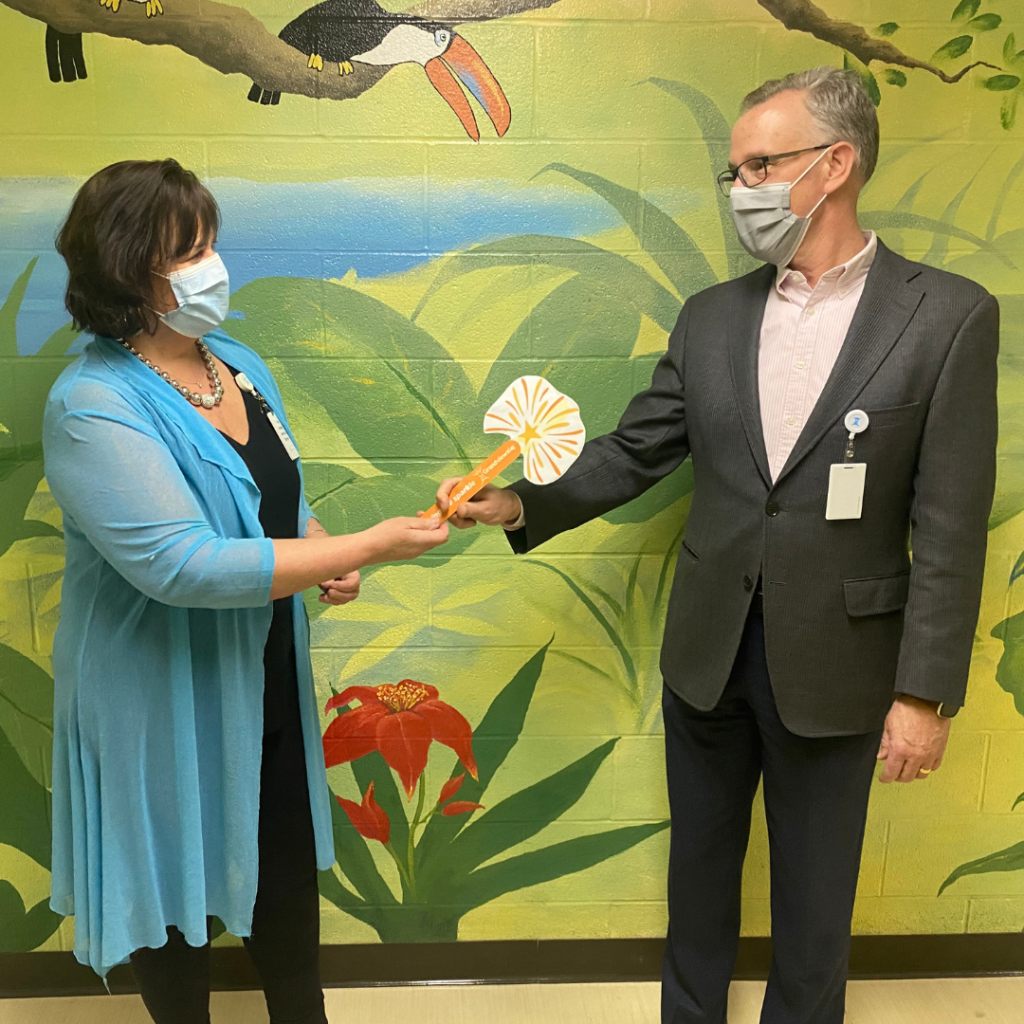 Meet Grandview Kids' New CEO, Tom McHugh
Watch Tom McHugh's introductory interview below as he commences his exciting journey with Grandview Kids.
---
More about Tom McHugh
Tom brings significant experience to the role as a respected leader who has led complex organizations through times of change and expansion, previously spending eight years in a CEO role at Tillsonburg District Memorial Hospital and Alexandra Hospital – Ingersoll. For another decade, he served as a Regional Vice President of Cancer Care Ontario. Over his career, he has held executive and senior-level leadership positions at London Health Sciences Centre and Lakeridge Health.
Tom began his career as a registered Occupational Therapist, supporting his appreciation of the rehabilitation services Grandview Kids is well-known for offering in the Durham Region. Supplementing his Occupational Therapy training, Tom earned a master's degree in public administration, focusing on health policy. In addition to his experience in the field, Tom brings a deepened sense of care and understanding to his role at Grandview Kids acquired through his lived experience as a parent to four children, two with a developmental disability.
As the construction of the New Grandview Kids headquarters inches closer to completion each day, Tom undoubtedly enters the CEO role at an exciting time for the organization. Through his storied experience and infectious excitement for change, Grandview Kids is looking forward to learning and growing under Tom's leadership.
---
Lorraine, thank you for your dedicated service and incredible leadership over the last 11 years. We wish you all the best in your retirement.
Tom, welcome to #TeamGrandview. With you on our team, our future is sure to be bright!
---
Check out more Grandview Kids articles
Stay updated with all things Grandview Kids!