CEO Blog May 2022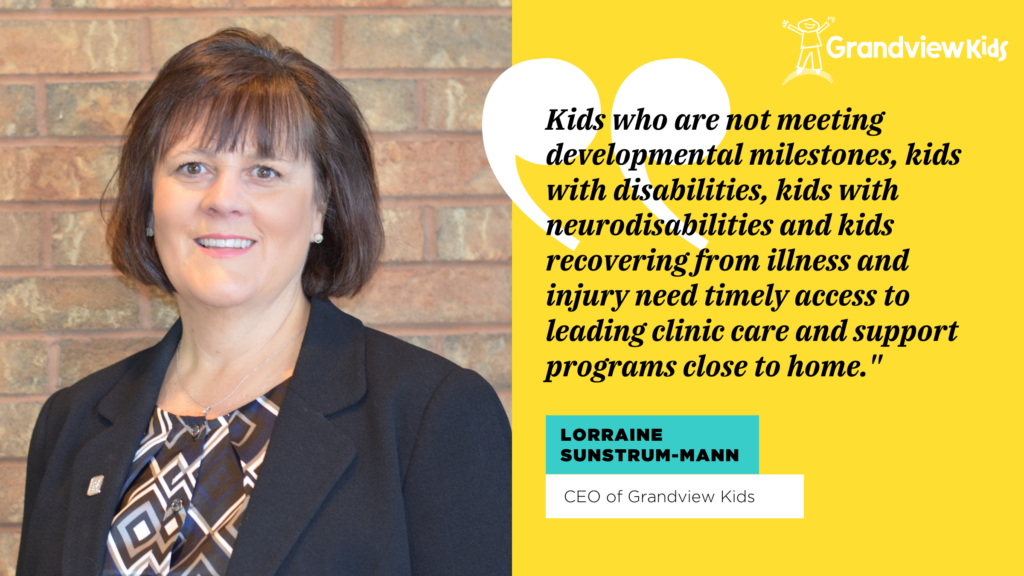 Kids and youth with disabilities and their families have been disproportionately and negatively impacted by the COVID-19 pandemic.
As a member of Empowered Kids Ontario, Grandview Kids raises our voice along with other children's health organizations making up the Children's Health Coalition including CHEO, Children's Hospital – London Health Sciences Centre, Children's Mental Health Ontario, Holland Bloorview Kids Rehabilitation Hospital, Kids Health Alliance, McMaster Children's Hospital and SickKids.
The Children's Health Coalition is asking all parties in Election 22 for a bold commitment over the four-year term of the next government ensuring that Ontario will make kids count.
Kids are more than 50 percent more likely to wait beyond the clinical standard of care compared to adults. More than 30,000 Ontario kids are waiting for community-based rehabilitation and specialty clinic service. In the Durham Region, this translates to 5,614 kids waiting for community-based services at Grandview Kids.
In Ontario, more than 50,000 Ontario students are waiting for School-Based Rehabilitation Services. In the Durham Region, this translates to 6,080 students waiting across all seven School Boards serving the Durham Region.
Many families that required minimal support prior to the pandemic now require more intensive support to regain what has been lost. This will create greater pressure on a system in which children are already waiting years to access care.
Kids with disabilities and those recovering from illness or injury are at risk of significant long-term health problems because critical early intervention windows are being missed.
A system approach for children is essential for Ontario's paediatric recovery. This must include investment in community-based care.
Kids who are not meeting developmental milestones, kids with disabilities, kids with neurodisabilities and kids recovering from illness and injury need timely access to leading clinic care and support programs close to home.
The nature of children's health care is interconnected. Changes and pressures in one area have profound impacts throughout the system.
We ask all parties to commit to the following:
Adopt and commit to a bold 1 billion dollar Make Kids Count investment across all child health sectors so Ontario can address urgent needs and bring children's healthcare to the same level of attention as the adult system.
Convene a children's health care summit with government and children's health care organization to agree on principles for a long-term children's health strategy.
Release the Province's first ever children's health care strategy and further build Ontario's health care capacity.
Continued support for children with autism
Every child with autism has individual requirements. A needs-based approach is appropriate. Both the Ontario Autism Program (OAP) Advisory Committee's and the Implementation Committee's recommendations are based on this principle. There is broad agreement and support for this.
Grandview Kids wants to deliver on a needs-based program. Along with others in Ontario, we want to continually improve access and delivery for all of our services including the OAP.
It makes sense that public providers are funded to deliver elements of the OAP as these programs offer valuable supports with proven benefits for kids and their families, many of whom are already receiving care in our system.
The 50,000 kids waiting and the growing waitlist for OAP services must be addressed by the Provincial government.
Learn more
Read more about the Children's Health Coalition's calling to candidates and Party leaders to #MakeKidsCount by visiting the Empowered Kids Ontario webpage.
Review the Make Kids Count action plan and watch the Children's Health Coalition Make Kids Count Media event on YouTube.
---
Check out more Grandview Kids articles
Stay updated with all things Grandview Kids!