Beyond the Walls: Working and job readiness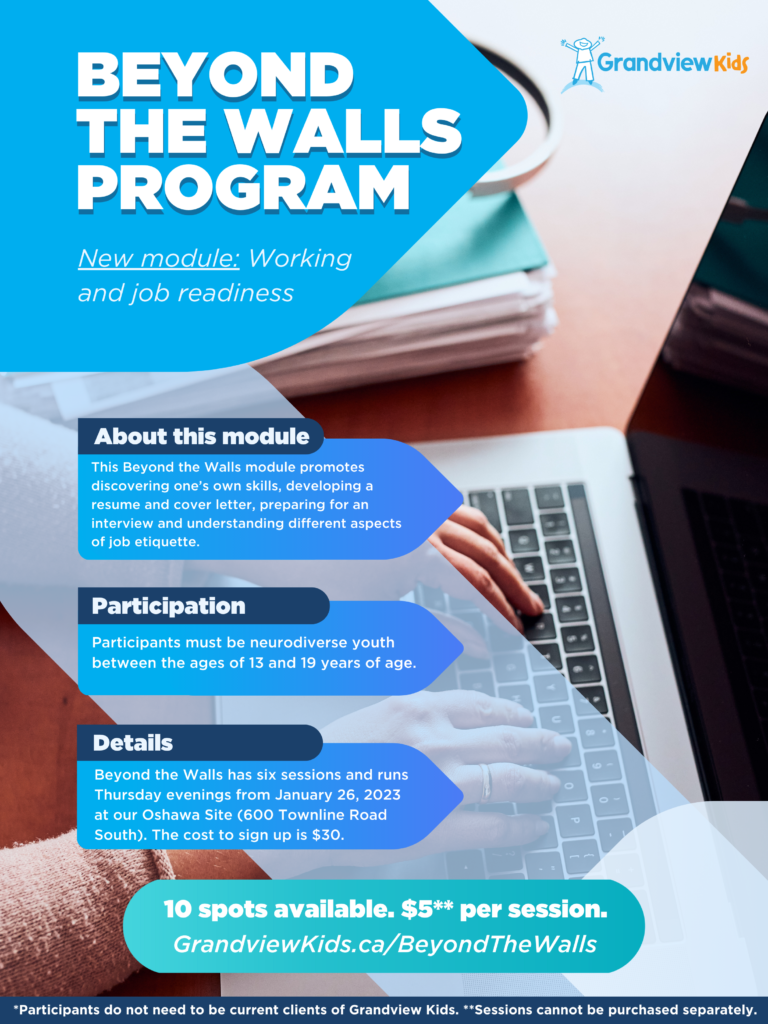 About the program
Beyond the Walls is a program created to encourage independence, wellness, improved mental health, community involvement, joy and resilience in neurodiverse adolescents (who may have Autism Spectrum Disorder and/or similar neurodevelopmental disorders). The focus of this program is to create capacity within the neurodiverse youth population to become more independent and have a safe place to learn how to utilize social strategies in everyday community activities.
The upcoming Beyond the Walls module will focus on working and job readiness. This module promotes discovering one's own skills, developing a resume and cover letter, preparing for an interview and understanding different aspects of job etiquette.
Participants will be provided with opportunities to engage in activities that mimic the different stages of securing a job and be provided with an opportunity to go out into the community and offer their application form, resume and cover letter for a potential job or volunteer position.
Eligibility
Participants must:
Be neurodiverse youth between the ages of 13 and 19 years of age
Benefit from the explicit direction in the program topics
Be able to manage in a group environment of three participants to one staff
Have a reliable method of communicating their wants and needs
Not engage in harmful behaviour to self or others
Respect a closed door
Details
Beyond the Walls sessions will run Thursday evenings from 6:30 pm-8:00 pm from January 26, 2023, at Oshawa Main Site (600 Townline Road South). Workshop development and program supervision are overseen by Grandview Kids staff, including, Behaviour clinicians and Recreation Therapists. Note: These interventions are not therapeutic or clinical in nature, and the sessions are intended to support the expected participant outcomes described above.
Visitors to Grandview Kids are required to meet the current health guidelines and complete a daily health screening. At this time, masks are not required to attend this module. Updates to masking requirements may change throughout the duration of the group, and participants will be notified accordingly.
---
Stay updated with all things Grandview Kids!