Strategic Direction 1
Transform the client and family experience across all life stages
We transformed the client and family experience in many ways in 2022-23. We welcomed more clients back to in-person appointments with rigorous safety protocols in place, closely aligned to Public Health COVID-19 parameters. We continued to amplify client and caregiver voices to drive program improvements and innovations, creating new ways to gather feedback from our most important partners in care. We leveraged new technologies to streamline processes. And we continued to ensure that families receive evidence-based, wraparound care throughout their journey.
Caregiver Experience Evaluation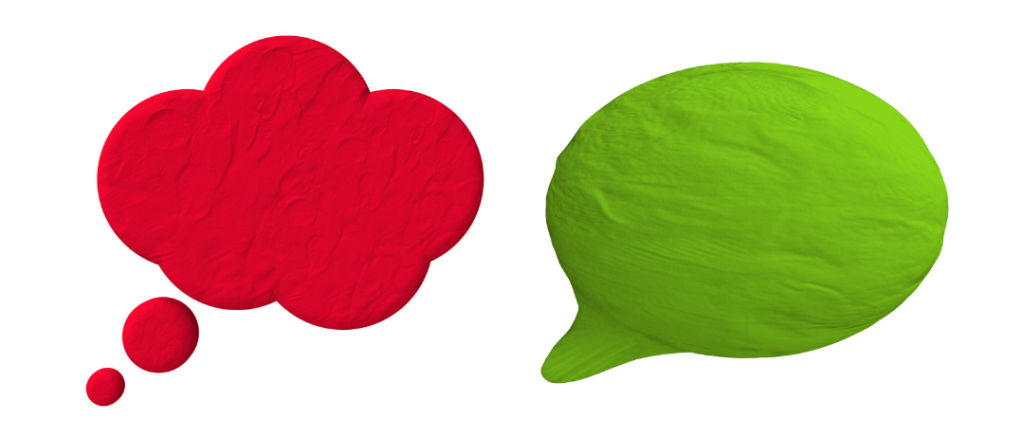 For a long time, we have collected informal feedback from caregivers about their experiences at Grandview Kids. But, in 2022-23, we recognized the need to engage caregivers in a more systematic way. That's why we launched our first-ever Caregiver Experience Evaluation in January 2023. Caregivers with children or youth currently in service at Grandview Kids are surveyed every quarter about their care experiences, with responses being used to inform program improvements.
In our first set of data, 79% of respondents agreed or strongly agreed with the statement, "I feel like I belong." In another question, two-thirds of respondents indicated they would recommend Grandview Kids services to friends and family. We are reassured that the majority of clients and their families feel this way about Grandview Kids, but will continue to evaluate and expand on these insights to track progress year-over-year.
Family Leader Program
The Family Leader Program at Grandview Kids comprises parents, caregivers, clients and siblings who support Grandview Kids as our advocates, ambassadors and advisors. We recognize clients and families/caregivers as important partners in care and consistently seek to embed their voices into our programs, services and decision-making processes.
The Family Leader Program, supported by staff from our Family Engagement Team, includes many forums for families, caregivers and clients to get involved to make a difference for others in their community who access Grandview Kids programs and services.
Family Advisory Council (FAC)
Grandview Kids' FAC is made up of parents or caregivers to Grandview Kids. These dedicated and passionate volunteers provide advice and guidance from a client and family perspective to improve the planning and delivery of programs and services at the Centre and across the broader paediatric health system.
The FAC meets quarterly to discuss systems-level topics – problems that all families may encounter, regardless of the child's age or diagnosis. The group pulls from their lived experiences to provide recommendations to Grandview Kids, participating in the design and decision-making processes for programs and services at the Centre.
In some cases, FAC members share their stories and solutions on committees external to Grandview Kids, offering opportunities for broader impact. This diverse group of individuals helps Grandview Kids understand what matters most to the clients and caregivers it serves.
In 2022-23, the FAC responded to four strategic focus questions:
How might we increase family voice and participation from a broader group of clients and caregivers?
How might we ensure technical and digital resources at Grandview Kids meet the needs of parents and caregivers?
What aspects of Grandview Kids make it a 'Centre of Excellence' and how can these activities be developed to their full potential?
How might we broaden the network of Grandview Kids to form meaningful partnerships within and beyond Durham Region?
---
Through feedback received in these meetings, the following improvements were made at Grandview Kids:
Integrating a new quarterly touchpoint, called The Buzz, where current or "hot topic" issues – outside of designated meeting focus questions – could be shared anonymously by FAC members with Grandview Kids' senior leadership team, who respond with concrete next steps or anticipated action items to issues raised within two weeks.
Caregiver focus group established to provide feedback on School-Based Rehabilitation Services (SBRS), with recommendations embedded in program changes coming Fall 2023.
Introduction of Gather by Grandview client and family monthly newsletter, adding new way for our most important partners to stay informed and provide feedback.
Process for scheduling reminders updated to include videoconferencing information in more accessible way. Other recommendations were embedded into the organization's emerging Technology Strategy.
Implementation of new, quarterly Caregiver Experience Evaluation to more consistently collect insights from clients and families, in response to FAC feedback that "not all voices are being heard."
Expansion of caregiver events across Durham Region planned for Summer 2023, helping Grandview Kids reach more families in our catchment area.
Developing compensation framework for paid family advisors/volunteers as part of new "Family Advocate" role (more details below).
Support in defining "Centre of Excellence," capturing what clients and caregivers think Grandview Kids already does well.
Initiation of process review for escalation of client/caregiver compliments or complaints, with a focus on transparency and clear communication.
Identification of future-state partnership opportunities.
Creation of secure, electronic referrals for caregivers and youth clients, citing feedback that most people access information on their mobile phones, and our former process was not mobile-friendly.
---
"I think that's the hope for all of us: to take our passion and make it spread outwards to all of the people who work with our kids, and interact with them, and that they will feel the same passion we have for them to do our best for them."

FAC Member
"Every update, I think it's great to see the progress we are making on all the feedback this group has given. I really appreciate the work that's happening here."

FAC Member
2022-23 FAC members:
Jennifer Cantwell
Shona Casola
Allyson Eamer
Seana Haley
Beth McBarnett
Sam Micieli
Colin Mills
Claudia Nossier
Debbie Smith
Lindsey Stevens
Krista Ormsby
Taju Punnoose
---
Youth Advisory Council (YAC)
Members of the YAC include current clients, siblings and grads from 12 to 25-years-old. This motivated group of youth works to host inclusive events for Grandview Kids families and take the lead on events, such as our very popular Annual Accessible Halloween event at the Safety Village.
YAC offers members an opportunity to provide feedback to the organization on topics that affect our clients, while earning valuable volunteer hours. The YAC also supports the Grandview Kids Foundation by volunteering at fundraising events, including Celebrity Server Nights. The group much-enjoyed the opportunity to all get-together in-person again, catching up, sharing ideas and providing feedback in meetings to make program improvements at Grandview Kids.
2022-23 YAC members:
Nicholas Barry
Mia Belanger
Samantha Collins
Liam Cox
Emily Petrik
Sam Keane
Uwais Mirza
Ashley Muir
Amanda Power
Kurt Snow
Eliott Smith
Darren Thorogood
Adam Whittick
Taylor Willis
---
Thank you to this passionate and driven group of advisors for their ideas, energy and innovations in our last fiscal year.
Family Advocates
In 2022-23, we implemented a new role within our Family Leader Program: Family Advocates. Family Advocates are paid volunteers who assist in the development, implementation or evaluation of projects, using their lived experience as either Grandview clients or caregivers. We will continue to grow this cohort of clients and caregivers, aligned to emerging leading practices.
Thanks also to all the other clients, caregivers and families who supported us by participating in Special Education Advisory Committees (SEACs) at local school boards, as well as those who served as Ambassadors, telling their incredible stories to support Grandview Kids and the Grandview Kids Foundation in our community messaging. For more information on our Family Leader Program, visit grandviewkids.ca/about-us/family-leader-program.
ASD Hub
In 2022-23, we completed 525 ASD Hub assessments. Assessments were completed by our four Grandview Kids developmental paediaticians, as well as eight community paediatrician partners.
We have now completed over 1,500 assessments in the six years since launching the ASD Hub at Grandview Kids, with about 70% of assessments resulting in an ASD diagnosis. This has made a huge contribution to our community, with early diagnosis leading to early intervention. For children diagnosed before they start Junior Kindergarten, they have been able to access the Early Years Autism Program and services offered by Grandview Kids.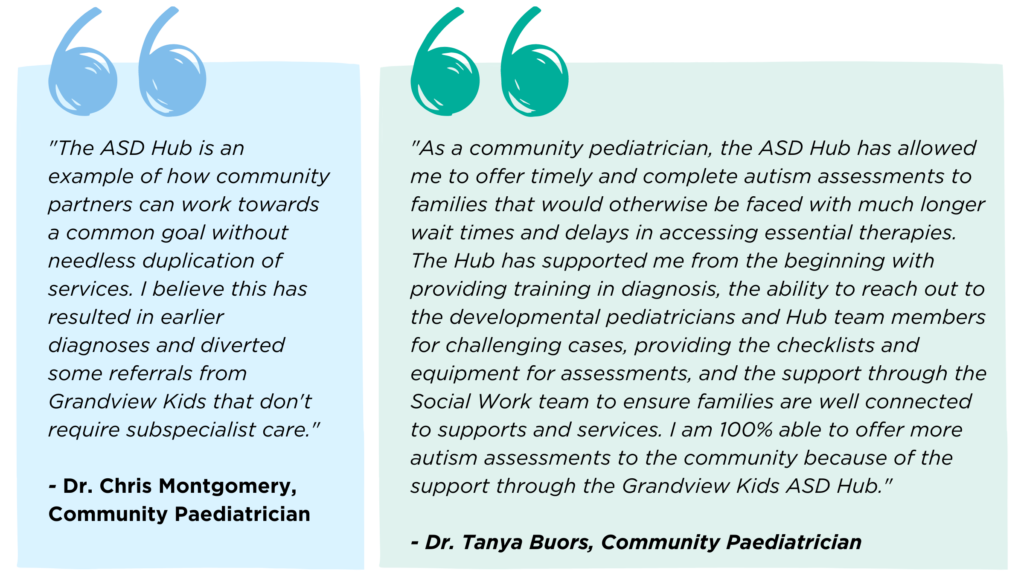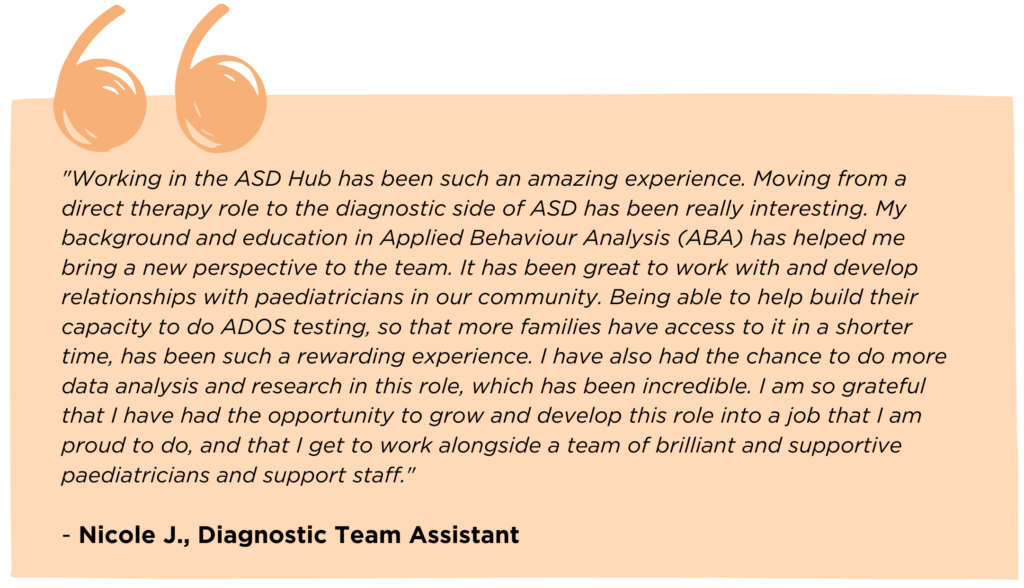 For more information on Medical Services at Grandview Kids (doctor referral required), please visit our website.
---