Since 2008, we have been planning and preparing for the "New Grandview Kids" – a Centre of Excellence in paediatric care. It will support the seamless and coordinated provision of family-centred care for children and youth with physical, communication and developmental needs. It will be an open, welcoming and inclusive community-based paediatric facility, supporting an integrated mix of rehabilitation, medical and clinical services, as well as education and research activities.
Building on the exceptional talent and skillset of Team Grandview's physicians, leadership, clinicians, administrative and support staff, our new, larger and fully accessible facility will enable Grandview Kids to expand and enhance existing services and introduce new ones.
The Centre of Excellence will include:
Centre-based rehabilitation services, including occupational therapy, physiotherapy, speech-language pathology, recreation therapy, audiology, infant hearing, blind low vision, social work
Ontario Autism Program (OAP)
Preschool Outreach Program (POP)
School-Based Rehabilitation (SBR)
Developmental Paediatricians and specialized medical services, including a Paediatric Complex Care Program
Family/caregiver resources and support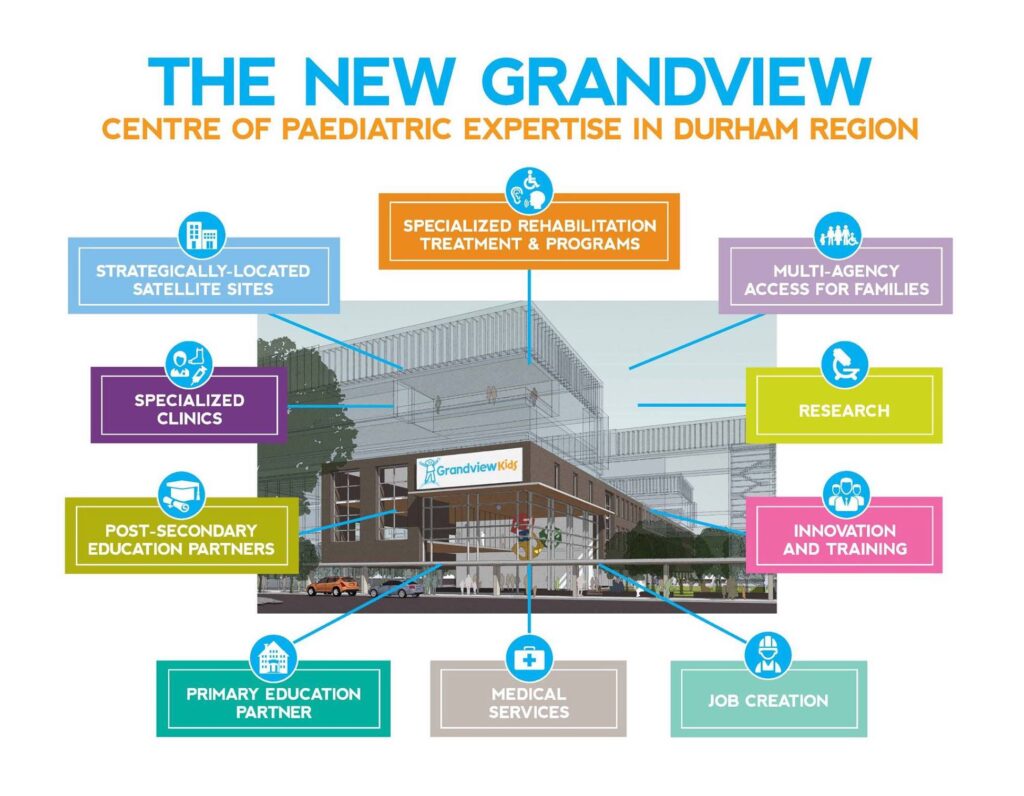 Our path ahead – P3 partnership model
Due to the size and scope of this redevelopment project, Grandview Kids has entered into a public-private partnership (P3) with Infrastructure Ontario (IO), a government Crown agency. Under P3s, provincial ministries and/or project owners establish the scope and purpose of a project, while design and construction work is carried out (and often financed) by the private sector. The P3 approach allows projects to be delivered more efficiently and more cost-effectively than traditional procurement—more information about IO and the P3 process at www.infrastructureontario.ca.
Project updates and resources
Grandview Kids produces quarterly updates, so our community is aware of the exciting milestones achieved for our New Build.
For more information on the Grandview Children Centre's Redevelopment Project, please email communications@grandviewkids.ca.
---
Stay updated with all things Grandview Kids!